Classical musicians take on the Appalachians and win while still dressed in their tuxedos and ballgowns.
Release Date – 9th April 2020, relisted to 1st November 2020
Label – Penny Fiddle Records
Like an inhale of peppermint-laced breath, The Idumea Quartet's debut album offering is a spicy yet cooling work whose self-description of "tradition, innovation and whimsy in equal measure" is pretty much on the money. Comprising of Ewan Macdonald (violin), Jane Rothfield (violin, vocals), Rebecca Wolfe (Viola, vocals) and Nathan Bontager (cello, vocals), this fearless foursome have engaged in some considered work in applying their classical trained skills to reworking Appalachian folk music.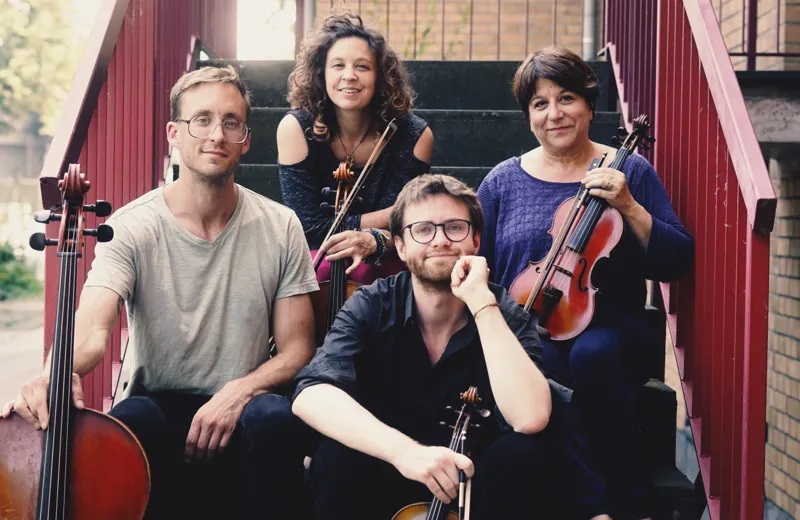 You see, while this album is a sustained effort of chamber-folk it has its share of whimsy too. It is the kind of shake-up that makes this album like a flash of the magician's deck of cards, and therefore something interesting indeed. The refreshing nature of "More Than One" is perhaps that brilliant friend you have who wears flowers in her hair and is often seen vaulting into the middle of a sardine packed dance floor full of energy and vitality. To look at her you might think that spontaneity is ill-informed, but she has done this many times and has the experience to back-up the novelty. Let us look at the tracks and see this in action.
The first is an excellent set of "Falls of Richmond/Grub Springs". We particularly love this version of "Falls of Richmond" which whilst sticking close to how you expect the tune of the James River and small waterfalls therein, the training and orchestral bent of the quartet are here to enjoy. It isn't played super-fast, the tune can be savoured and enjoyed as the parts all converge, rise and fall into the springier "Grub Springs". A joy to begin, though potentially misleading like the pleasant ambience of walking into a sauna, things are going to get hotter quickly. Unlike a sauna though where it generally just gets very very hot, you do not expect what is to come here.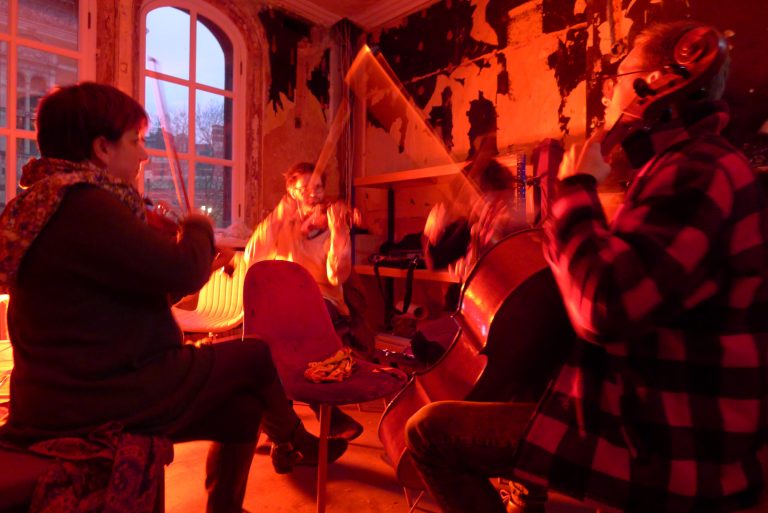 Next, for example, there is a great version of the Christian Gospel "Fall on my knees". Beginning as the solemn take you would imagine it quickly transforms from cautious caterpillar to soaring Red Admiral Butterfly as the call of the thumping cello emerges and the pace picks up. It has the feeling of a spontaneous jam by the smoking camp-fire with its share of red medium-rare vocals and inquiring violin. More a shared bond of life than an overt call for a higher power, it's humanist overtones are warm and inviting. In fact one could argue that the group's cover of the Bluegrass song "Cluck Old Hen" is more religious in sentiments. Apart from the odd vocal flourish that slips the disguise a little, it feels like you are more in the house of God than the Henhouse. In fact in terms of reverence and introspection (about laying eggs) this song is on it's way towards being like "The Old Churchyard" in feel. The interpretation brings with it a sense of desperation, resignation and the idea dancing on a poor family's lips as to whether this hen's fortunes turn round or it becomes the family's last taste of meat before the cold hits. Bold and interesting, it is worth checking out.
Carthy Hoose in contrast is a light delight of a tune. While airy in general feel, the violin and cello strings feel embedded like weighty iron train tracks; you can almost hear the cry of Mountain life outside the clattering carriage shutters. This steam engine starts as a formal dance but chuffs its way into the rural circle, champagne gives way to good old-time bourbon and a good time is had by all. Joy on several levels the track is brimming with movement and chi and it is also our favourite tune and track on the album.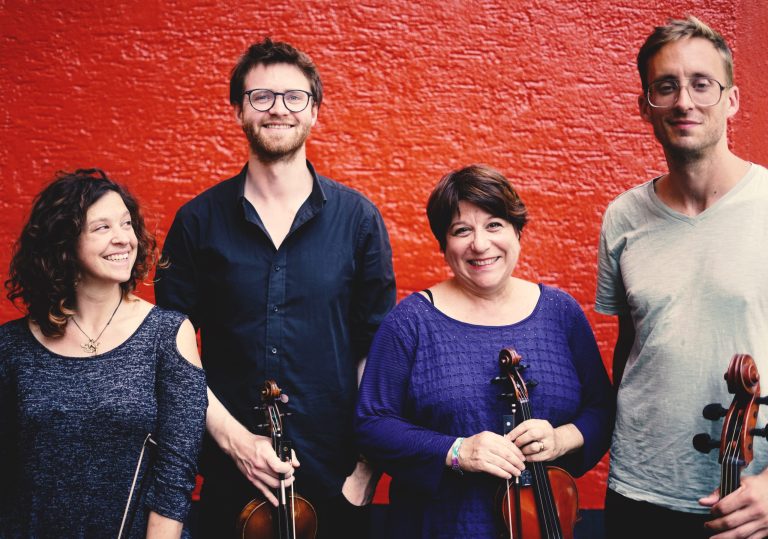 We are also treated to a version of "Sally Anne" which is an interesting diversion sans banjo (as you might normally hear it). Quite dense musically, intentionally or unintentionally the backing vocals kind of sound like they are in the wind with so many overlapping strings dominating your senses. Kudos to the sound design and production on this track as I could easily imagine this recording falling down under its own weight under lesser hands. The sound production throughout the album (mixed by Jason Alder, mastered by Sam Proctor) is very good, you can hear the life that all the strings have of their own, in a way the disc seems to shine a spotlight on the instrumentation slightly more than the vocals, but for a classically trained ensemble this is exactly what you want. Except once again the band diverge from this notion with the next track..
It is of course the Idumea Quartet's version of "Silver Dagger". Up to now it would be difficult to predict how they choose to approach this song of high renown as the Quartet like to play with the blocks of form. It is safe to say it is treated well, sung with deep emotion and a backing musical overture which is like a dawn's chorus as it grows from humble rays to fuller shining sun. We admit "Silver Dagger" is not our favourite song (I know, shock horror there), but we recognise the skill in which this old faithful dog has been taught some new(ish) tricks.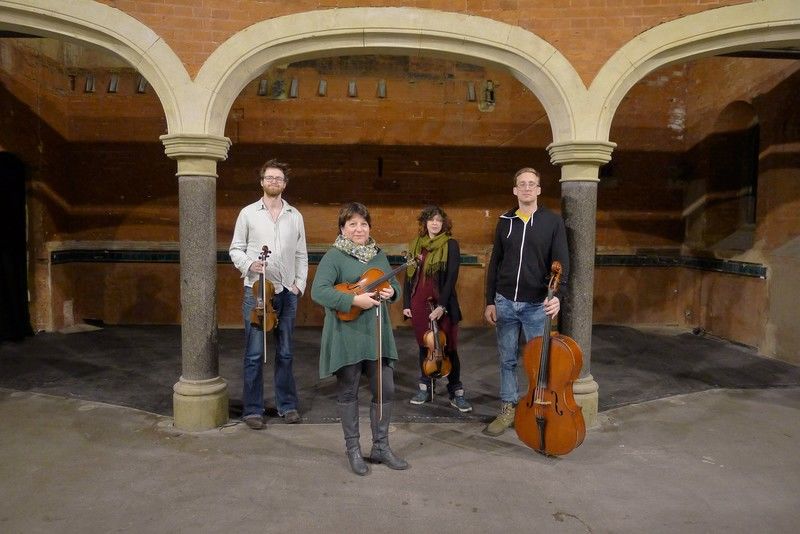 This album is like a wild hare. One moment it stands on its hind legs majestically austere as it surveys the scene, you turn your back for a second and the next time you look it is frollicking and springing into the air with festivity.There are musical conventions and consistant choices that could have legitimately made the disc a particular sound to fulfill a particular desire (pure fans of the Appalachian Folk) but, to our personal relief it is playful and inventive as well as being competent and traditional.
Check out some videos below, you can purchase the album from BandCamp https://theidumeaquartet.bandcamp.com/album/more-than-one-2
Keep an eye on their website and social media to see when they are touring near you, they are currently rescheduling due to the Coronvirus outbreak. https://idumeaquartet.com/