An auspicious beginning in the sun, Beardy brings the breadth of bigger festivals to you in a space which is convenient, friendly and relaxed
Like when the blacksmith's hammer is at it's hottest, June this year was aglow with fire, heat and sparks.
Festival season was underway and the musical magic about to happen for many people who get to choose their poison (alcohol, cola, tea) and go to a festival to choose their other poison (pop, jazz, folk, hip-hop). For a few days over late June we decided to opt for Folk as our medium of choice and travel down to Shropshire for the first of what is shaping to a nice additional to the festival calendar, the "Beardy Folk Festival."
It lived up to it's name, that's for certain. One of the artists (I cannot remember which) did point out he thought he'd walked into a ZZ Top Convention. Yes there were beards and they were that impressive, my boy stubble was of no compare.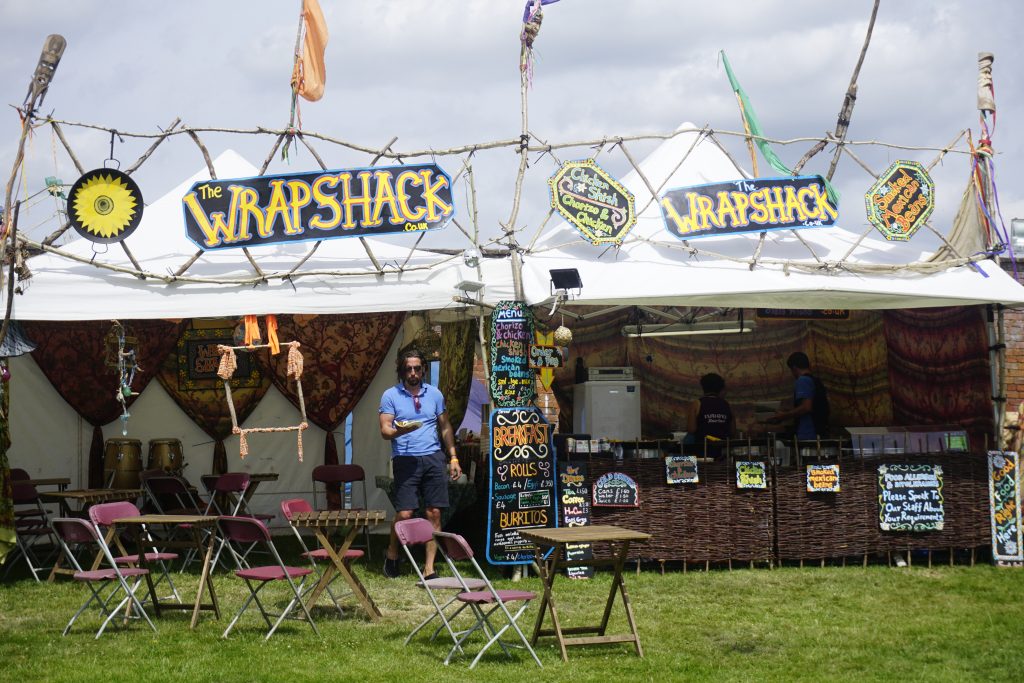 Bearded stuff aside, the festival was home to some children's entertainment, a mini funfair and opportunities to eat, drink and buy around the fantastic walled Hopton Court. Thankfully with the expansive, warming sun we found a few areas of shade to cool off and certainly left the festival with a tan! We are certainly liking the trend in festivals where the bar is encouraging people to hire the containers or bring their own. Beardy had their own take where they sold you a commemorative container for £1 and you keep it for the festival all the way through and beyond. Certainly environmentally better than binning a pile of plastic.
We also found that there was excellent sound quality all around, good scheduling (you could see absolutely everything) and some brilliant acts to boot; the beer was quite awesome too. It's more contained than expansive city festivals (like Oxford Folk Festival) so what it loses in it's varied sprawling historical setting it makes up for in convenience and pleasant surroundings. The only musical tent being an acoustic tent was good also, not much need for jostling to get to the front, everyone can see and have to bring their own seats.
That's the festival generally. What were our musical highlights? See below and have a quick sample!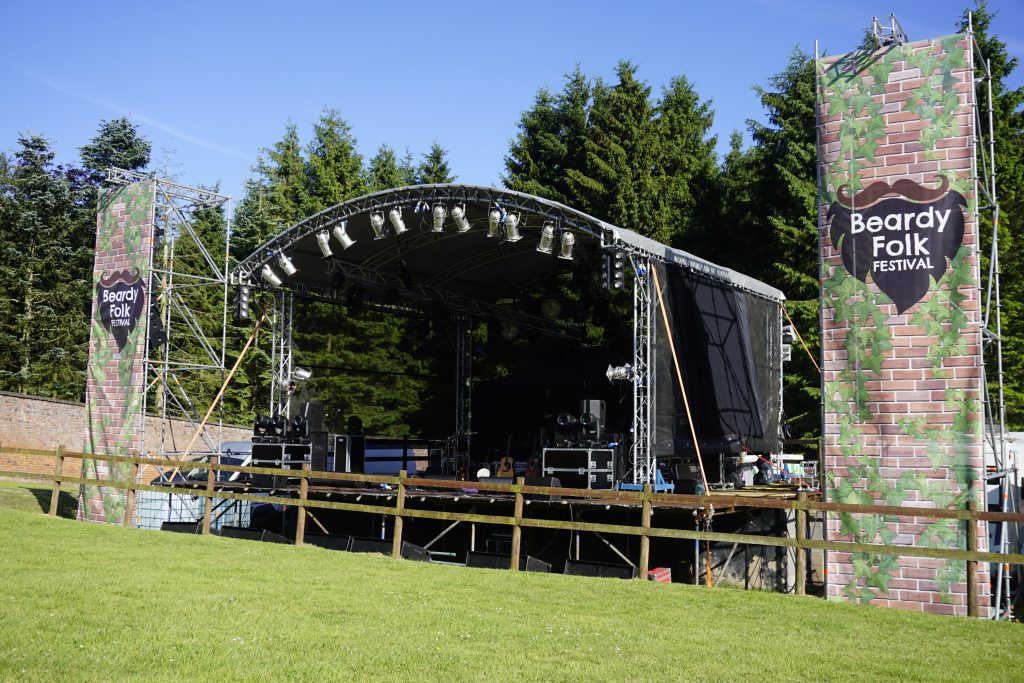 JOSHUA BURNELL BAND
We continue to sing the praises of this modern, psychedelic outfit that brings the animation of yesteryear folk and collides it with the vitality of youth. Singing a number of folk songs, some bombastic in their rock interpretations (The Lowlands of Holland) with other more considered numbers (such as a version of "At the Harbour") or bloodythirsty tales of revenge, "The Smuggler's Tale", they continue to be a a festival catalyst. Like the spinning leaves of Autumn that trigger a beautiful memory as they crunch underfoot, the Joshua Burnell Band always liven up the place. Their belting of Scots set, "Plane Tree & Tenpenny bit" is like the crack of a lion tamers whip as it curves around the stage, it is even more with the recent addition of Holly Brandon on fiddle, they really are hitting their groove in style.
With a big band rock edge, inspiration can be seen from Steeleye Span with their spin on "Blackleg Miner" and Fairport Convention's "Tamlin" and these models certainly suits them as the joining chorus of instruments keep pace with Burnell's dancing hands and swaying hair.
Always a pleasure to see and hear. For us the Joshua Burnell Band are like the person at a party who finds and open the champagne in the middle of celebrations!
Go to http://www.joshuaburnell.co.uk/ and find some more out about them.
KIERAN TOWERS AND THE CARRIVICK SISTERS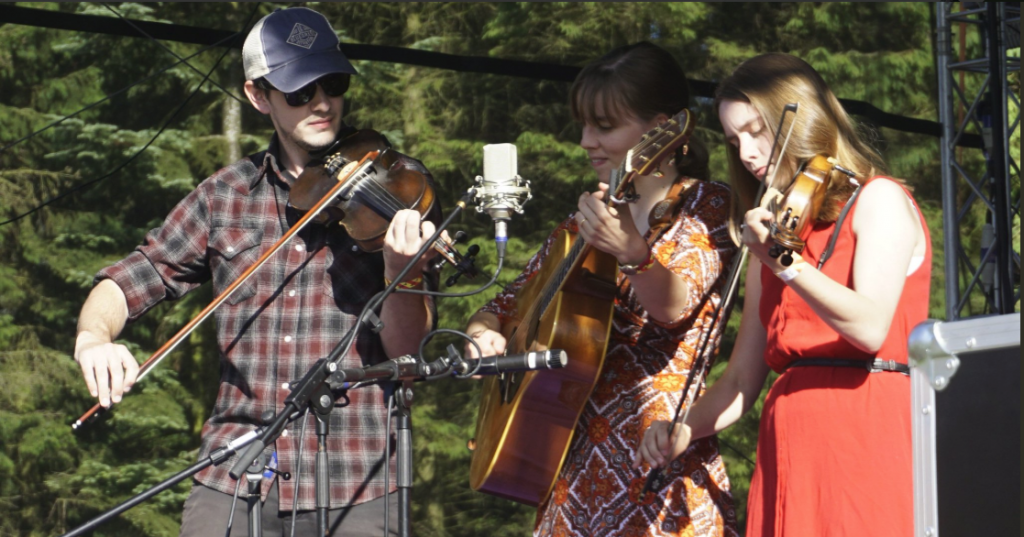 We admit that the sun always shines on us with the Carrivick Sisters. A duo who have been influencing and informing folk and bluegrass for a while, it is statistically possible that their down-to-earth characters and earnest, exploratory songwriting could not do the trick one day.. but that would be a sad day indeed (and we do very badly at maths).
At Beardy, they were joined by Kieran Towers. Kieran has made an album with Charlotte Carrivick, "Wolves a Howlin'" that looks at Appalachian Folk Music with new eyes, and his presence here was very welcome indeed. They performed some excellent songs including the historically drenched "1912 House" that oozed sadness and the feel of another time, the burning and aching wonder of their take on "The Blackest Crow" and the delicate racing burst of "Piggy Bank", an instrumental that reminded of the sugar rush of crushed skittles.
They also sung of Snowdonia and maps, responding to a Yew Pine Mountain in an original track ("No Yew a Pine Mountain") and an old tortoise, in a great set of versatility.
Dynamic and versatile, Towers and the Carrivicks make it look easy and effortless. To hear more of Charlotte and Kieran go here http://www.towerscarrivick.co.uk/, for the Carrivicks go here http://www.thecarrivicksisters.co.uk/.
KITTY MACFARLANE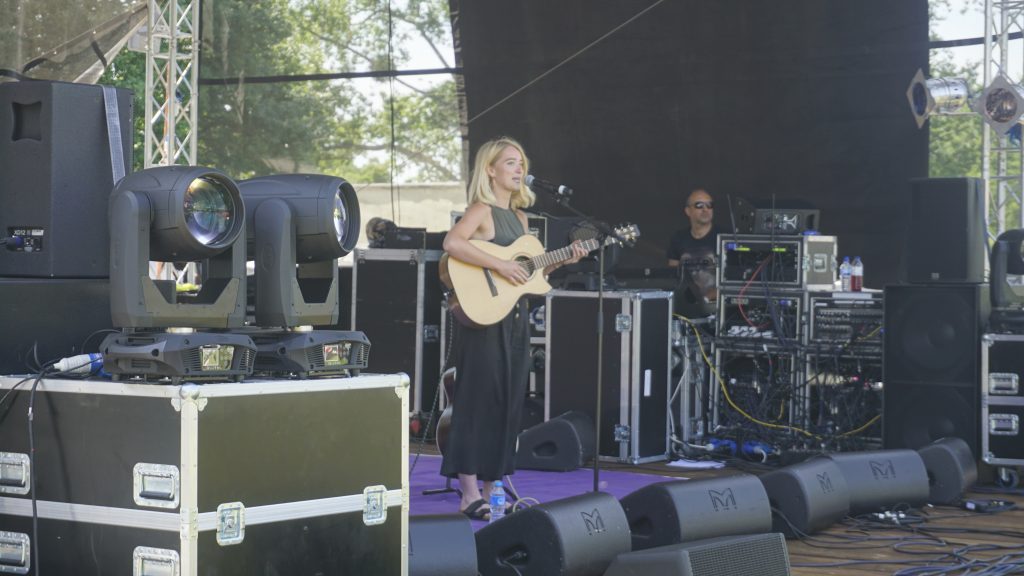 Imagine a quiet cave with you inside and your thoughts on the walls around from a mythological adventure you have returned from. This is how you might come to understand the music of Kitty Macfarlane. We have been waiting to see her for quite a while, the last time we caught any of her set was at Oxford Folk Festival last year.. but that was literally ten minutes (we got lost on the windy streets).
Beardy Folk made it very easy to find her this time so there we were! Kitty's set didn't disappoint.
Several of the songs tickled our interest of legend and story such as the "Glass Eel", the world-spanning creature and "Avona and the Giant" about the muse of brothers "Goram and Vincent" from Somerset lore. The latter is much like the singer herself: quiet and effective as it makes it's way into the world. The afternoon sun definitely got softer with her musical presence. And then there were other songs such as her song about fishermen in North France "Tide and Time", and a new song she had composed for a newborn in her family "Dawn and Dark" about there being bigger challenges for the child as they grow up and even better things to come in the future.
Enjoyable, mellow and contained we recommend you see her where you can.
At the point of Kitty's debut album is on it's way on 21st September, "Namer of Clouds." Go to her website for more information http://www.kittymacfarlane.com/
GRANNY'S ATTIC
With Granny's Attic we feel that they are at the point where their lightening might strike, we have heard the rumble of thunder and now the energy is coming down from the skies. With a fairly extensive tour schedule and
Granny's Attic are a trio of young, exasperatingly talented musicians who (we think quite rarely) sail their boat around the rock of traditional folk. There aren't the only young group who are, its just that few seem to accomplish it with the kind of trad-purity and dedication to the cause. Like a herd of plucky mountain goats you can try to catch their sound and energy but they will run away with it.
Our favourites were "The Wheels of the World" with a particular message about society, the great titled "What I Saw In My Dream (As I Slept in My Chair)" a kind of delirious dream of what the world could be like, and of course their saline, punchy version of shanty, "Away to the South'ard." The winds of the world were blowing indeed and these guys answer the call.
A funny bit of the set was how the band described how they might have burnt their bridges in local Worcester venues (because they weren't very good back then) and have found fame elsewhere. It is certainly encouraging to hear how musicians always start from somewhere (and it happens they are from near where we grew up).
They are a young image of folk that takes everything you like about the traditional scene and adds a dash chilli to heat it up, go to their website for more info https://www.grannysattic.org.uk/
URBAN FOLK QUARTET
Dishing out intricate musical performance with the energy of a piston engine, the Urban Folk Quartet opened with "Long Time Traveller" an earthy, rich hewing of ancient wood and soil. There is plenty here with fiddle, guitar, banjo and some serious percussion that extends it's grasp into those areas between experiences that spread beyond geographical boundaries. Awfully tongue-in-cheek with their prowess there is so much to like whether it's Dan Walsh's clambering and speeding "Whiplash Reel" (after what we presume is an intense Indian car journey) or a three piece tune that celebrates the experience of joining (and then running away) from the circus; there are many things to be happy with and many subject matters to get lost in. "The "Whiplash Reel" rolls off the banjo almost effortlessly and sings of unfamiliar streets, the song is layered like a strata of land that bristles with India's many precious metals perhaps inviting you for a prospect of your own.
Enjoyable and reaching for those places you didn't know existed, the Urban Folk Quartet are another band to add to your list, https://theufq.com/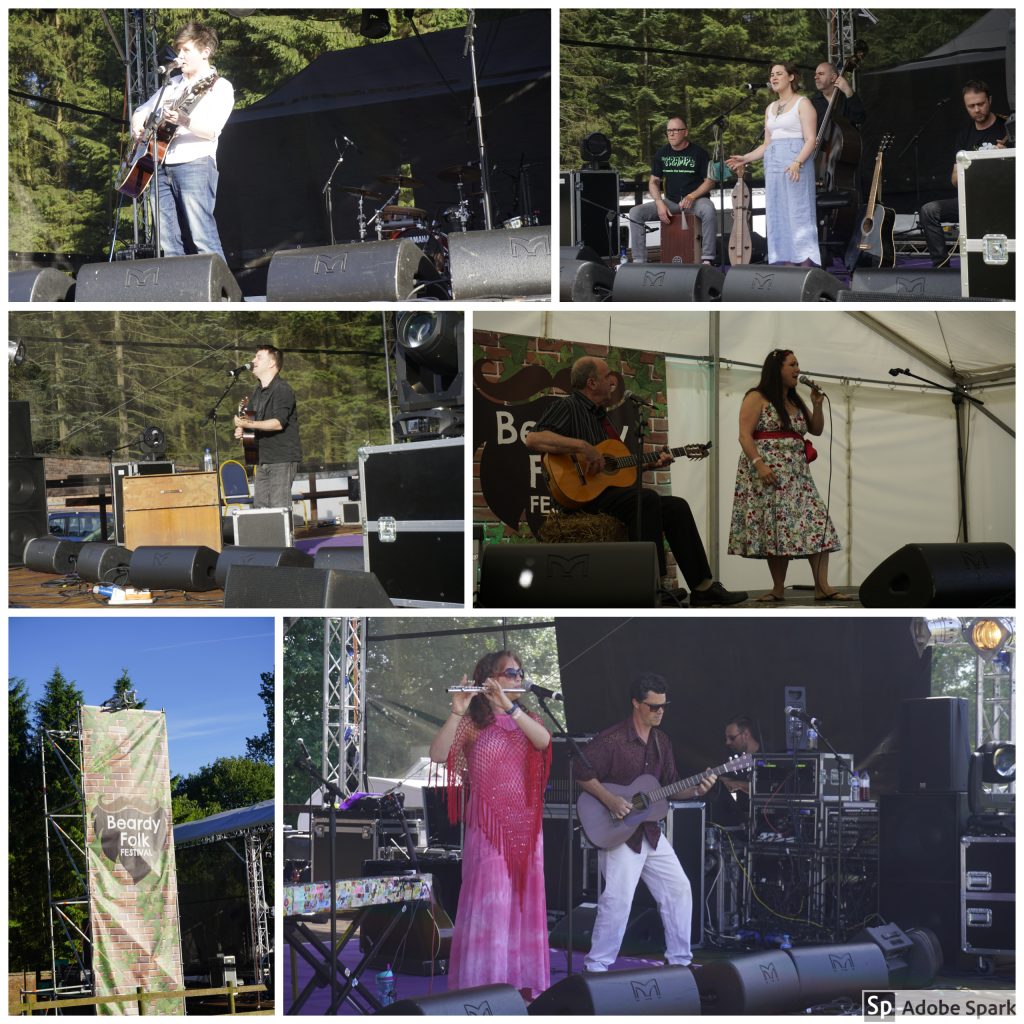 There were many other sets we enjoyed at Beardy too. There was a rare appearance by Richard Digance, comedian and singer who sand many from his repetoire "What's the use of anything?", "Jack of all trades" and "Sod's Law." An all-round entertainer, Digance explained the showbiz world and where he feels he fits in it, it was surely entertaining to realise where all those daytime TV guitar numbers had come from. Grace Petrie was a force of nature. We hadn't seen a full set of hers until this time (previously caught her as part of the Coven) so it was a joy to hear a strongly political (but often personal) voice to the mix of proceedings here. Extremely self-aware (her musing about just how "left" she is is telling, and something I battle with myself) she was a thundering cannon on these thoughts in "Nobody Knows I'm a Fraud" before launching into "Ivy" a runaway hit of her set (and would have been at the festival were it not for the Graceland set). Her self and being is held up for all to see, a heartfelt performer that laments her lack of finding a particular niche but exhibits the qualities of freedom and break from tradition that much folk shys away from.
We also enjoyed the continuing success of Kim Lowings, which was seen even more here and the comedic but vivid waves of tunes from the Jaywalkers who supplied not only the offbeat, unexpected numbers around burnt chilli and a "Mountain Chicken" but also a very fine cover of "Tainted Love." Bright and piercing like an arrow of light, they are a quality act. Other musicians of note were Roberts & Lakeman, Skinner & Twitch, and Jim Moray but there are too many to mention here.

Beardy Folk was an incredible success. A good opener with a recognisable and varied type of artist, an open location with a complimentary sound setup.
Keep your eyes to their website ahead of their festival I'm sure will be happening same time next year! https://www.beardyfolkfestival.co.uk/