INTRODUCTION

Bursting on to the Sheffield theatre scene comes "Soonchild", a play from the Red Earth Theatre Company which is adapted from a book by Russell Hoban. It is a story of the environment and the value within it, as a whole it is based on Inuit mythology. Red Earth is an organisation based in the East Midlands that is spreading their song outward, what could be the message they are delivering? Red Earth warms the heart with their forthright central tenants that "everyone is creative", "everyone's heart can be moved", and "everyone can feel fully alive"; all great goals and guiding principles.
It doesn't appear to be all empty words either as the company demonstrates their good works through conducting research into deaf and hard of hearing theatre as well as integrating this into their plays in a meaningful way. It feels like they pursue theatre for all as a duck chases a cracker; their earnest determination is a bright light of representation in the arts, and it shows in this work. Their website is here https://redearththeatre.com/

More on this later though, let us return to the story.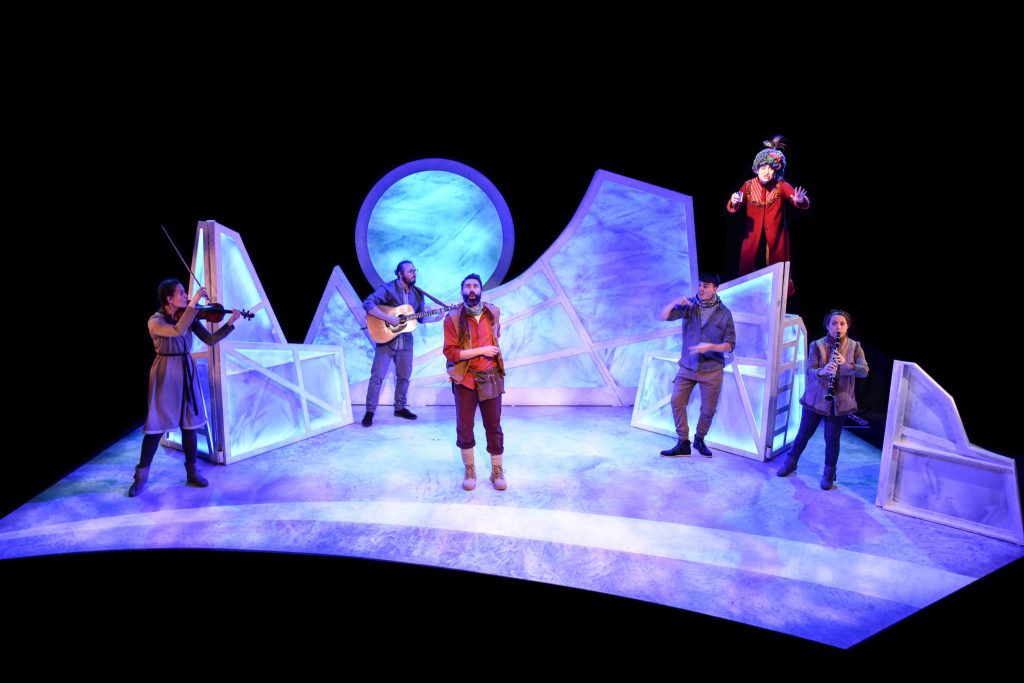 STORY

"Soonchild" is pretty much as the name suggests; a child is in her mother's womb and she is due to arrive soon. Unfortunately she does not believe in the world outside and will not be born until she hears the World Songs. The job of finding these falls to the child's father John, a shaman who is doubting his connection to the spirit world. Not only this, he has recently had a run of bad luck trying to solve people's problems in the village, he has "lost his mojo". With the help of the spirit of his Great Grandmother (who likes her vodka), Nanuk the polar bear and many others he seeks the stories out to bring to his child which as well as convincing his child to be born might itself might be part of saving the world from an unknown danger.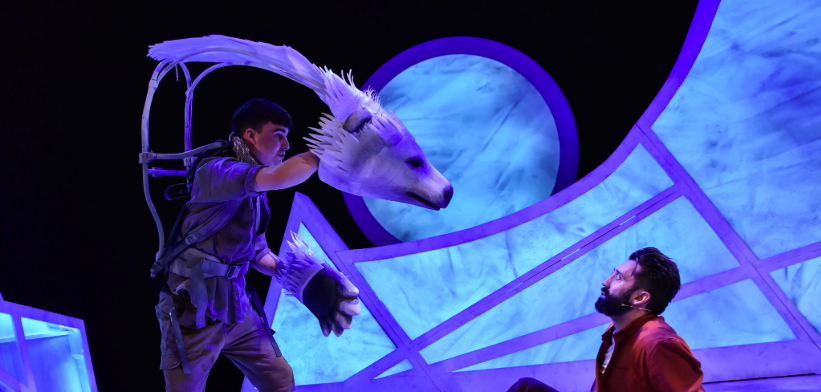 SCENES AND CHOICES

From the offset you feel that this adaptation by Wendy Rouse and Amanda Wilde (director) is confidently making the choices it does. The Montgomery theatre has the space and versatility to carry off the play, it all comes together nicely here as it is a familiar, family atmosphere.

In terms of representation, there isn't only an interpreter (more than one in truth as performers Matilda Bott and Brandon Plummer and Craig Painting switch these duties) but there are subtitles too. These appear on a nicely constructed sign by the side of the stage to keep the watcher informed (with the captions effectively done by the University of Nottingham captioning team).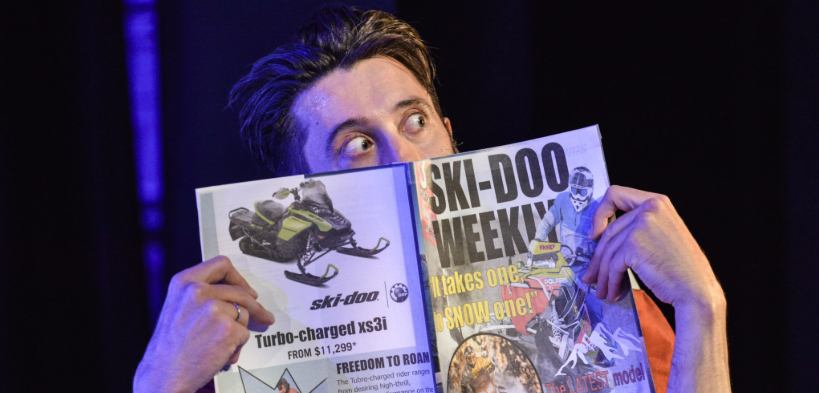 There is another crucial element which we haven't mentioned up to this point. The whole show has original accompanying music by the band "Threaded", a group of musicians that have had high praise from Fatea Magazine and other folk circles. Consisted of Jamie Rutherford, Ning-ning Li and Rosie Bott, Threaded are a lively, smiley and emotive bunch of musicians that bring a range of moods to suit within the show. There is the swaggering music of the polar bear, the scary violin at John's first death or the truly excellent potion-making tracks "Big Dram Brew" through guitar, violin and (refreshingly) clarinet. It is atmospheric and joyful to see these guys perform, and they seriously get involved in the theatrics too. A very notable addition is their commercial jingle that is a wry smile to our notion of a polar bear being all about Coca-Cola.

Much like the book, the play is based in the modern day; the mix of the spiritual and the old and the issues of today form an exciting explosion like caesium in water that crackles and illuminates society's worries for all. John could be considered in the grasp of depression over the loss of his relevance and skill but he is also concerned about the environment, and fearful for his transition to fatherhood. Craig Painting brings a lovely array of rubber faces to a full range of emotions, he is truly the "Sixteen-face John" that the story demands. You never doubt he is having a hard time, he portrays the character's fallibility and sadness throughout with no pantomime, and this is a challenging task in a story where there is not a quick and easy resolution to this these tidal waves of worry through the play.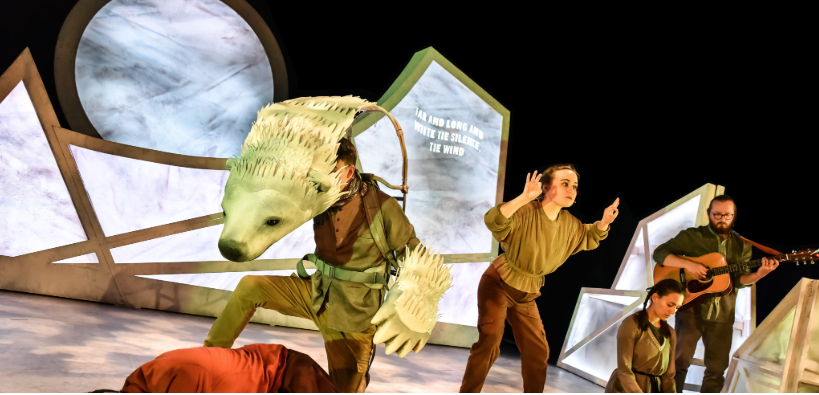 Matilda Bott also brings a lot, particularly in her ability to switch between roles at the drop of a hat (or a shawl). A veritable spring of energy, Bott is a joy to keep up with throughout. In one scene early on it is presented that the performers are playing "rock, paper, scissors" to determine who will play John the Shaman's wife. Bott "loses" the encounter and it does to Brandon Plummer to play this part. What comes across as a bit of fun and games is really a clever bit of casting which makes a bigger statement than how it appears. A man playing a woman is not a new thing, but it is only in the finale of the play when the two men kiss when you realise it could be making a positive statement about sexuality too. And like it's treatment of depression, self-worth, and disposable commercialism it is all simmered into the narrative like those hidden carrots in your child's pasta so with quiet acknowledgement and acceptance "Soonchild" is the very best education.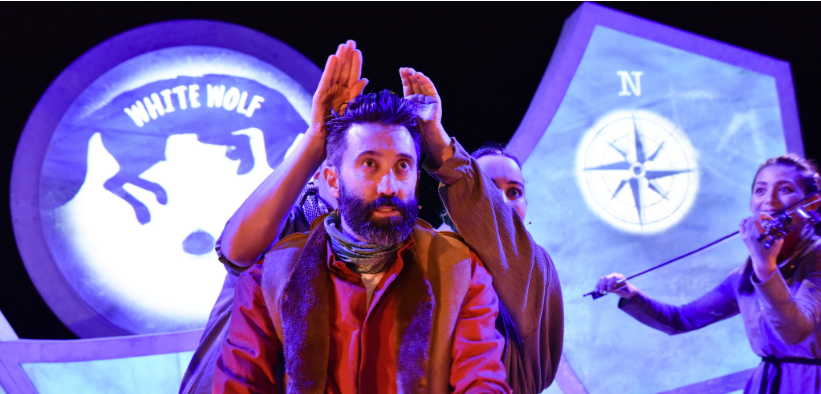 Soonchild is also a brave and accomplished production that knows it's family audience. Alongside the acting there is puppetry of all sizes (Plummer in the towering puppet of Nanuk or the tiny puppet of John traversing the mountains) and the puppet design adds a lot to what is seen (Nick Ash, Emma Powell, Steve Tiplady). There are also models, musical interludes and enough wonder to shake glittery wand at. Younger children will be taken in by the spectacle, older children will see the magic in the fantasy and parents will be entertained through and through. One surprise was the inclusion of a noteworthy shock in the play that comes at the end of the first half. The scene itself is beautiful, haunting and the lighting is on point (Callum Macdonald). It is however uncompromising, so parents of young children may need to reassure them at this point (though admittedly this did not seem to be an issue when we watched the play).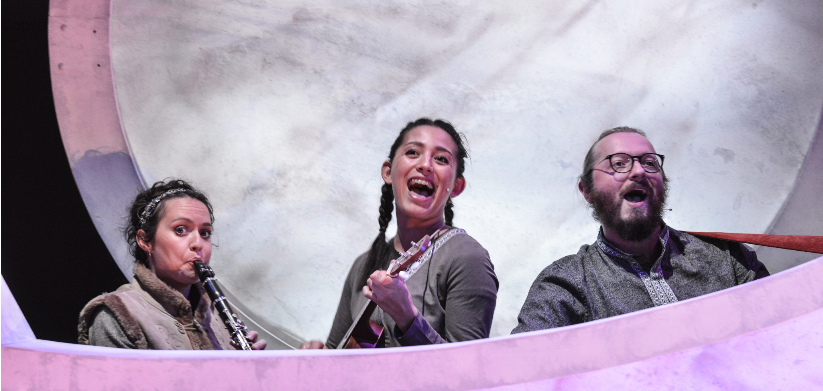 IN CONCLUSION
Soonchild is a rousing, spiritual and, at times, bizarre story (like all great works based on mythology). The tale is kept fresh for children and adults alike through its transitions between acting, puppetry, shadow-work and special effects; and at no point do you feel that you know what is going to happen, and that is the joy of it. Multi-layered and interesting it's core message is shouted even stronger with the thoughtful and effective inclusion of signing and subtitles.

So it is a party that everybody is welcome to.
"Soonchild" is on tour, check out details here https://redearththeatre.com/shows/soonchild/