Madison Violet
"light Americana which grabs and appeals across the board"
Starting off the South Yorkshire Folk, Roots, and World Festival there was the incredibly talented duo of "Madison Violet". Madison Violet consists of Brenley MachEachern and Lisa MacIsaac, two great robust names and musical artists with a sound I am going to describe as glazed pinewood, quite light in character and incredibly well polished.
Colourful in name and compelling in presence this Canadian act has more than a few hints of Americana and Roots to it, though it's strength is in their wide appeal to a full audience. Having released seven albums following a busy schedule of touring and working together for the last 14+ years, they are of course on another big tour which is stopping off in many countries, though sadly not much longer here (check out their website for details here). Their touring seems integral to their character, their professionalism and confidence certainly shows in the set in Doncaster as they made a lot of new fans in a potentially a difficult slot in a day when people are usually hunting Yorkshire Puddings rather than live music (first slot at 2pm on a Sunday).
They started the set with "The Heat", a track that was swerving and engaging in equal measure. This alongside "Ohio" were introductions that describe the character of Madison Violet quite well: the sound is clean, their performance is unforced and their instrument changes seamless. Under the shine of the unexpected Doncaster sun and the fleetingness of the afternoon, they were a great way to spend the time. Much of the set was older material than "Ohio" a more poppy number from their latest album, "Year of the Horse". Whilst some fans are split on the new influences with the later album, it seems that whatever material the women reach for has at least a modicum of appeal to a general audience; and this is no bad thing, many fans of Americana might be seeking the grimier side of life but treading that furrow can equally be a worn exercise.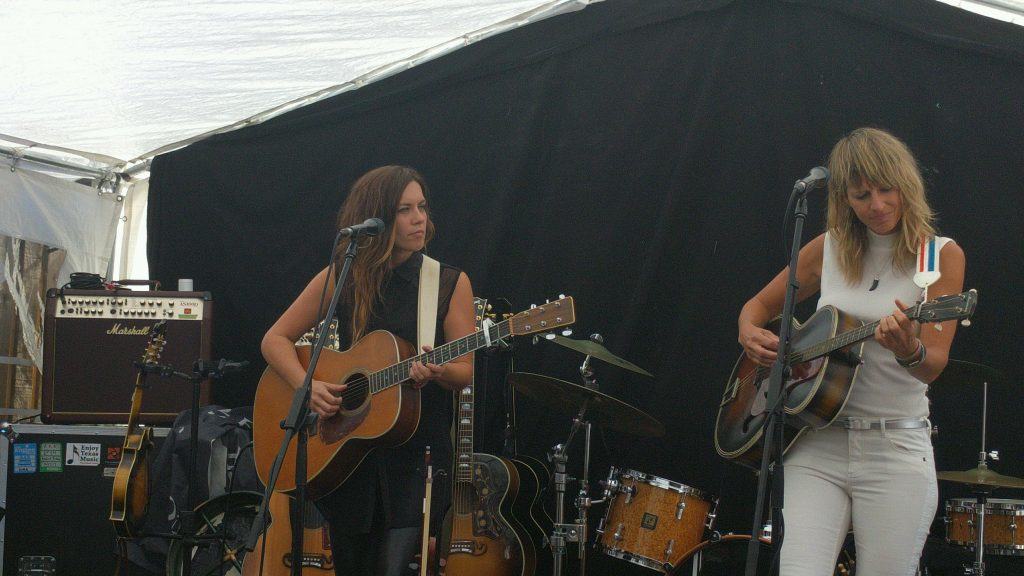 Moving on to "Come as you are" and "Crying your eyes out" the strength of this group is in their intimate portrayal of emotion; "crying your eyes out" was, as admitted by Brenley as being in part about her brother (who passed away) and part on discovery of the chemical complexities of the tearful act. A sad number yet catchy and memorable. My favourite song from the group had to be "The Ransom", one of those songs that while tip-toeing a lightness that their music embodies, it describes the pits, the desperation, and worry of being broke. Inspired by an Australian motel, you can almost feel the broken aircon through the guitar strings and searching lyrics.
Not "husky" but with a touch of darker sweetness, maybe a vanilla pancake with brown sugar (does that exist, I want one?) their voices show that time has been put into their craft and the decision to reduce production to a barer sound throughout their career is a very good choice, it puts their voices and hearts centre stage.
A great start for a good day. Check out my brief video for a thought, then check out some other clips on YouTube below, see if you like them- if so head over to their website http://www.madisonviolet.com/, several of their albums are available on Amazon too, https://www.amazon.co.uk/Madison-Violet/e/B002PA7I5I.
And from their recording sessions with MusicFog and others.