After the events of the first day, the second day at Derby Folk Weekend really kicked into gear and we were delighted to see known artists and some new faces who have been making the rounds on our social media feeds.
Apologies must be made as we were unable to go and see the political powerhouse that is Maddie Morris (https://www.maddiemorrismusic.co.uk/), or the stalwart Winter Wilson (https://winterwilson.com/) during our stay, though they would undoubtedly be well received by the audience. There were a few artists that we managed to see:
Frankie Archer
(https://frankiearchermusic.com/)
Frankie Archer is an artist who relatively described as, "a bold mash of electro alt-trad". We are certainly inclined to agree with this descriptive statement.
Archer's use of loop peddles and other technology along fiddle do the job of honouring the Northumbrian tradition and leaning on the inherent sadness or joy of the tracks without distorting them all out of recognition. Think of a shiny slinky, coiled and full of kinetic energy which to the unsuspecting child is an explosive, magical stepping instrument of movement and purpose.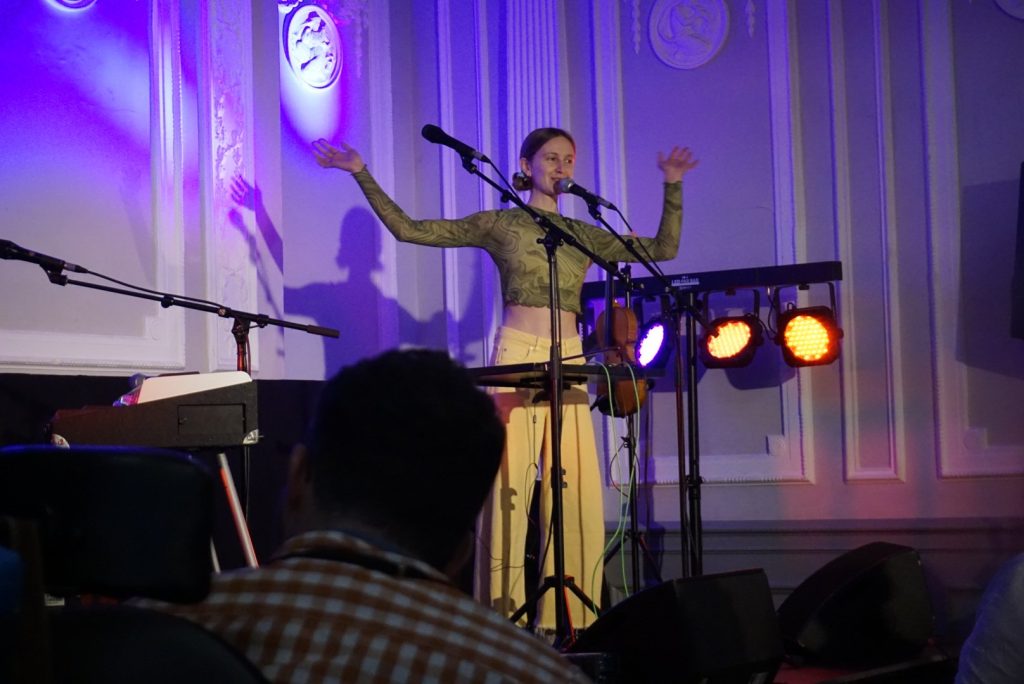 Archer's version of the old, old tune "Lucy Wan" is a good, personally grief-stricken take of the old murder ballad from the woman's perspective. The samples drip behind the fiddle foreshadowing the grisly end, and whilst the brother of the piece does not get his comeuppance, so to speak, his guilt plays a darker course in end. Archer continues her wealthy showcase of her home area with a lively rendition of "Elsie Marley" that weds you to the time and place, as well as "Peacock Follows The Hen", sounding more like it's self then some of the other numbers. Archer is a fresh, assured start to the second day, an artist that should certainly assure all those electronic soundscape tinkerers and trad lovers that there is always room for reinterpretation. This along with her determination and drive for women's persepective in folk make her a must see for us.
---
Jim Moray
We then put our hands together for Jim Moray.
Moray is the kind of artist with an esoteric mix of songs and subjects that are really appealing such as the curious "The Straight Line And The Curve", a song about John Dee, an occult advisor to Elizabeth or, the exceptionally strong closer to the session, "Sounds of Earth" detailing the Voyager spacecraft and the audio recordings stashed on it. Moray himself is a lynchpin in several aspects of the modern folk scene with his indelible mix of traditional songs and original material, and his application of producing skills in support of newer artists such as Frankie Archer.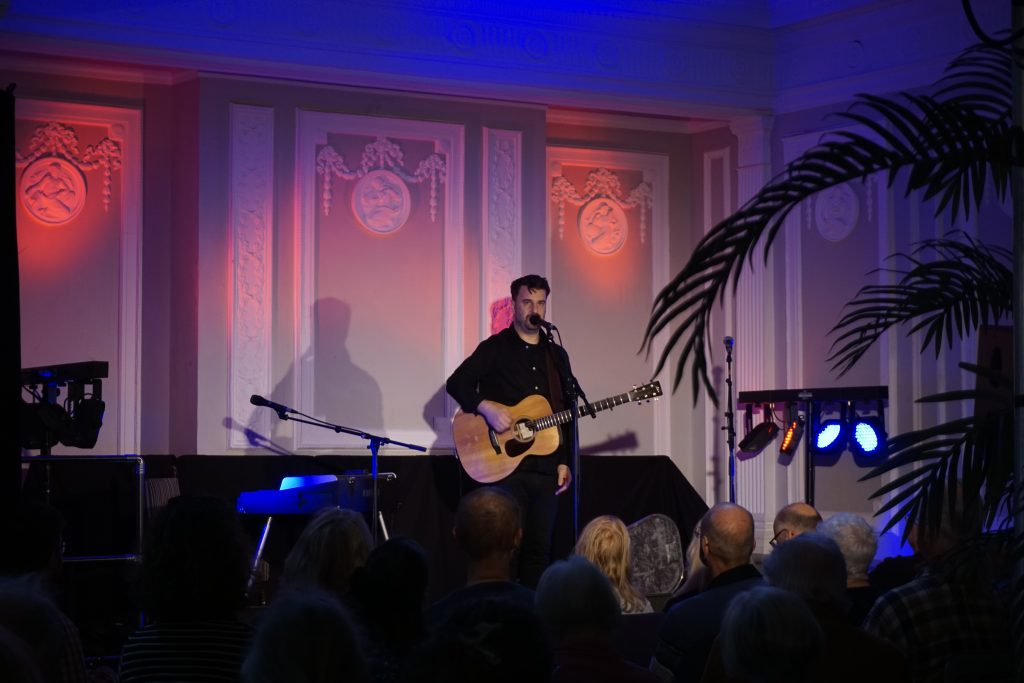 The audience seemed in particular anticipation for Moray, most likely because of his grounding in traditional numbers (a Child ballad, a broken token, a classical regional piece) and the variety he trundled along with him. A nice treat was him taking the stage with Frankie Archer to perform the aforementioned "broken token" song, "Jenny Of The Moor" , a beautiful inclusion to a good set. Moray has an enviable reach and seems to be especially dedicated to the folk scene, we look forward to seeing more.
---
Threaded
As the darkness is looking to fall, the evening lineup starts with an intriguing group from our homeland (The Midlands). Comprised of Jamie Rutherford (guitar/lead vocals), Ning- ning Li (violin/vocals) and Rosie Rutherford (clarinet/vocals), Threaded's sound is not merely a vein of optimism but rather a left ventricle pumping in the spirit of high adventure and fun into proceedings. Their music is not initially familiar to us, but there is a spark which resonated somewhere and then we realised why. They have been involved with Red Earth Theatre, the excellent Deaf-accessible, story-telling wondermachine that we have previous reviewed (see our review of Soonchild from the annals of history here). This explains why their wide-eyed creativity and joy has a place with us.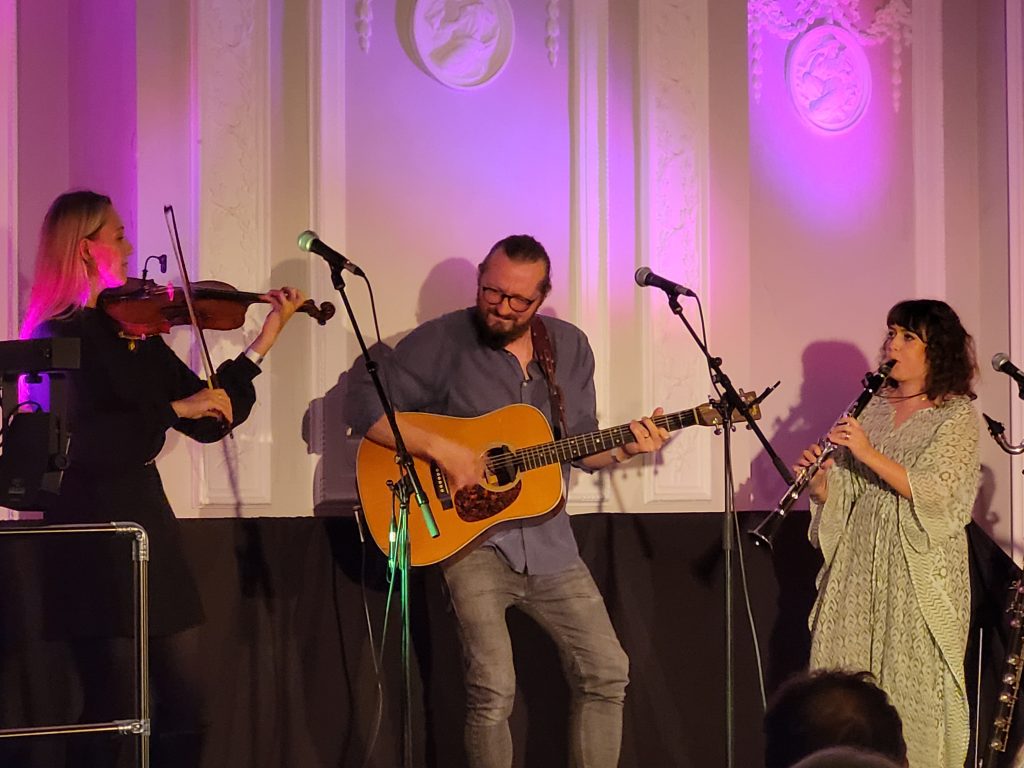 There is a lot to like to here starting with; "The Colony", an unruly, bright song about massive ants, "The Lady Next Door", a situated and loving piece about one of Rutherford;s neighbours, and a newer number "Raven Road", a song full of warning and woe. Threaded's music has a kind of family-friendly wonderment about it. You could call them the "E.T." of the folk world as their tunes are the musical equivalent of the fruits of Steven Spielburg's producing flair. If you get the chance, you should check them out.
---
The Magpies
(https://www.themagpiesmusic.com/)
The late part of the evening was allowed to soar a little higher with a chance to see The Magpies Duo (Bella Gaffney and Holly Brandon), the TransAtlantic Folk Band that hops all around the musical variations of the Atlantic. We have been vaguely aware of their journey whilst we were becoming new parents but missed them on the live circuit following this and Covid and everything else, so this was a rare pleasure. Their music is always moving like a bee collecting bits of pollen and influences from all over.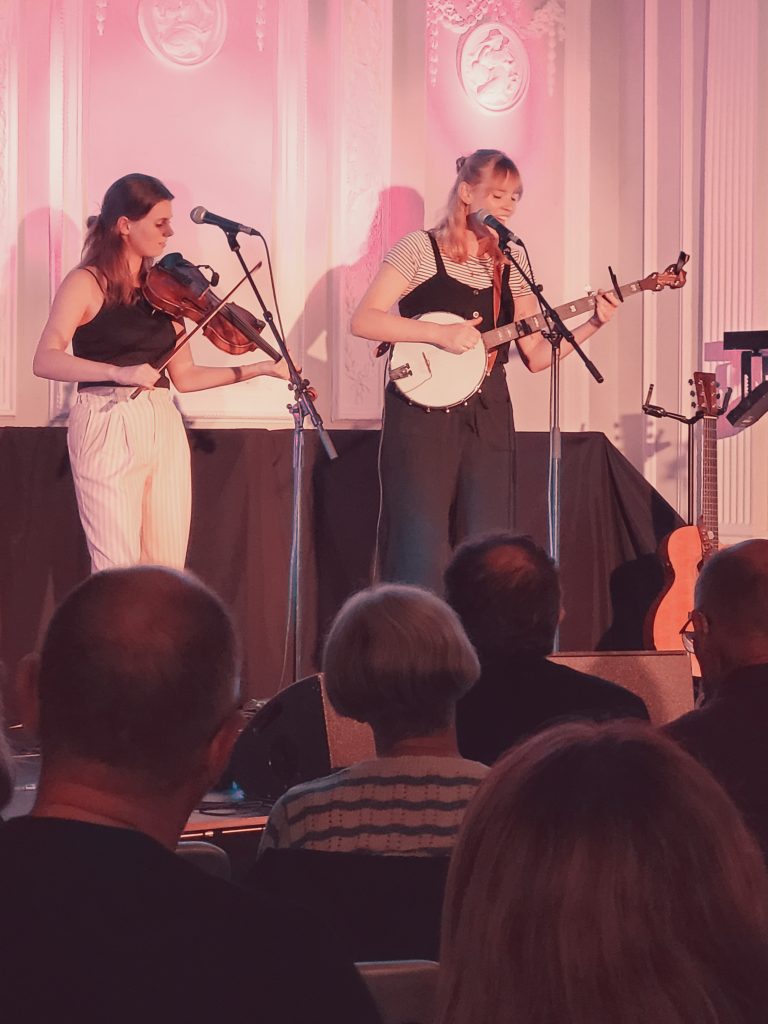 There is the earnest sounding "No More Tears" from the "Tidings" album, a quiet but forthright break-up song, the bouncing "Colin's Set", a modern tune written by Holly and arranged by the group, and the old-time Appalachian Song "Fall on My Knees" of (as the group rightly points out) a guy being "overly dramatic". Their set was characterised by a dry humour, and excellent musicianship from their growing catalogue. They also gave the crowd what they wanted with (what they are well known for) their cover of the Eurythmics, "Sweet Dreams (Are Made of These)" that takes the jazzy electric synth and holds it down to an earthy, woody folk standard.
---
So all in all, a great second day, stay tuned for our third and final day writeup!