It's been a little while and Derby Folk Festival 2018 has come and gone.. in fact, as of writing it is 2019 and there is a new year ahead!
We are pretty certain plans are under way for the next festival in October 2019, but in case you didn't go last year.. let us give you our impressions of some of the goings on, the standout performances and general feel of this late year musical mixup. We couldn't catch everyone, so apologies if we miss your favourite group out! There will be pictures and a few clips to give you a feel and hopefully get you excited about the return to Derby in 2019!
Last year the festival spread it's wings a little more and has extended the festival to run from Thursday evening to Sunday. We could not get there for the Thursday, but we do hear that Gary Stewart's "Graceland" and Zulu Tradition were extensively rocking the main festival tent. We can't speak for Zulu Tradition as alas we have not witnessed them yet, but the "Graceland" set is a very good one. We saw Gary Stewart's Graceland at Beardy Folk earlier in the year and they sound very, very like Paul Simon. They have the bustling energy you are looking for in bucket loads and for anyone wanting to relive the time of the album launch (or anyone new for that matter) they are indeed in for a treat of the ears by seeing them live, so we strongly recommend.
So let us start with some of the acts that got our attention.
John Tams & Barry Coupe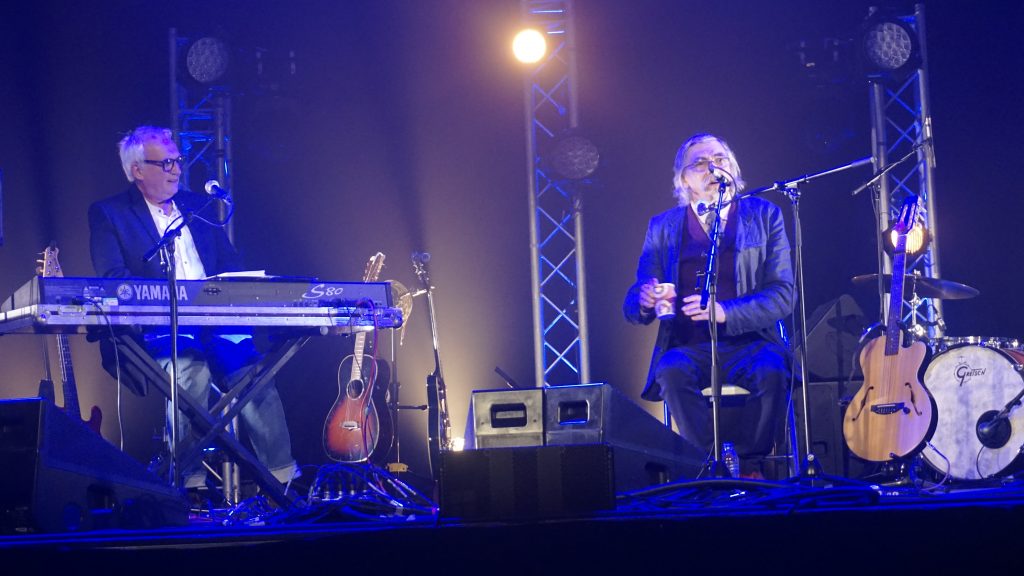 A treat near the beginning of the festival, always a treat, is to hear John Tams & Barry Coope. Bringing a significant wealth of experience and poignancy to the beginning of the festival, this duo are clearly old favourites of the crowd. With pointed, emotive numbers such as a rendition of the "Manchester Rambler" (an ode which puts the highest amount of importance on this activity other all others… including marriage), the song "Sorrow" with it's eye on loss in society and (presumably) unemployment, and also the "Devonshire Carol" (as heard in Warhorse) they bring a tear to the stanchest and toughest of people. A set that is quiet and dwells in the heart, we recommend catching these two if you get the chance.
Louise Jordan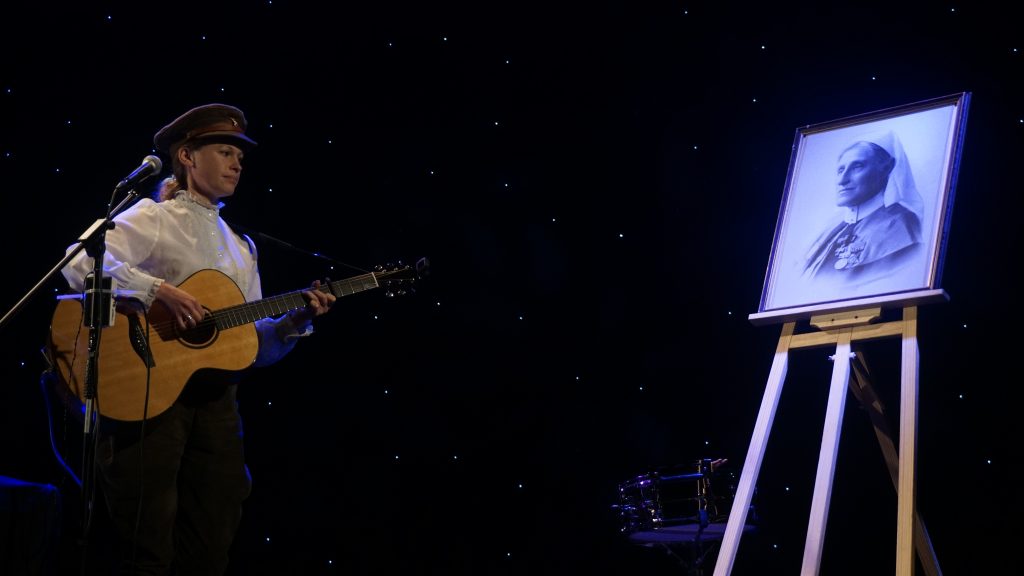 It isn't just Barry Coupes & John Tams whose music crosses into war-related music and stories. Luckily for us Louise Jordan arrives at the Guildhall Theatre with her trademark sense of class and humility, and most importantly with her excellent show/gig called "No Petticoats Here." We have been looking forward to seeing Ms Jordan and her show every since the Great British Folk Festival we went to in 2017. We attempted to see her show in Skegness but due to the numbers, small size of the room, queuing difficulties and acoustics.. we couldn't really say much about it. At the time of writing we are pretty certain she is working on her new show but if it is anything like the beautiful interlace of historical story, song and images we see in Derby, then we have high hopes indeed.
Conjuring up thoughts of the great war, Jordan does the job that everybody should have been asking her to do. That is bringing the voices of great women and their experiences to us to remember that we "were all in it" during the war. She certainly does and the show more often than not highlights some incredible sacrifices that were given which many would never of heard of. Not everyone is a fan of war-time related music but in fairness there is enough intrigue, guile and determination from the historical figures that Jordan brings to the fore, that it is incredibly difficult not to look on in admiration. Jordan's voice is as powerful and empathetic as ever as well. Whether Jordan is teaching us about Ada Yorke (a nurse who wanted to be a doctor) who got the Royal Red Cross for exceptional nursing (in the song "Pride of the Army"), or about when women's football teams arose to fundraise for children and families of soldiers (only for women's football to be banned in 1920), she brings a sharp, observational style to her music. We can see what has been ignored for so long.
Jordan's measured use of technology, design and choices allow the stage to be wholly about these important women. There are highs and lows, great characters and a lot of history to make this a fascinating evening show. Jordan is an enthusiastic sharer, her joy must be like a botanist finding a rare species of flower, except here the flowers are indeed the women of the Great War.
For that reason and the bright sparks that Jordan has captured from the tinder of the Great War, we consider her set one of three best things that we see at the festival.
Harp and a Monkey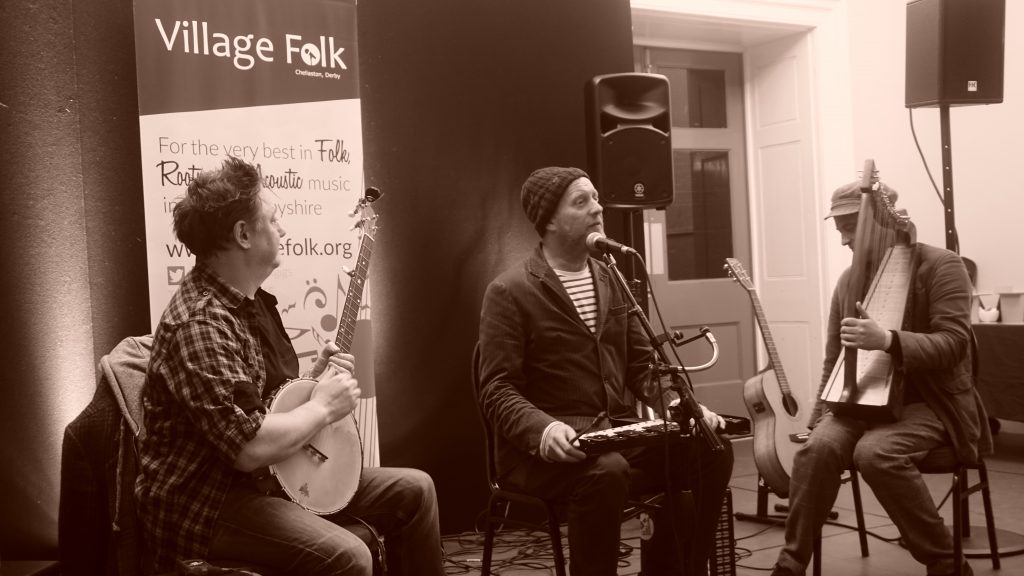 Harp and a Monkey in the way that they are, are rather odd, deep and certainly furrowing their own path in the folk world.
We saw them a good while back at Village Folk in Chellaston and they were very good indeed. At Derby Folk Festival they were back again within the "Village Folk" segment of the festivities. The trio performed two sets over the day, each one coursing with a signature blend of the psyche (their cover of "The Molecatcher"), the reverent memory (The Gallipoli Oak), a tipping of the hat to Charlie Chaplin's unusual role in the War (Charlie Chaplin) and their dipping into folk themes of old (Willow and the Ghost).
They certainly have built up an impressive repertoire of moods all blending in and out of each other. At Derby Folk Festival the sound was crisp and clear, their voices are both mournful and joyful as if moving across the veil itself, bringing these stories back. Their performance also reminds that they take risks, and whilst their use of electronic sampling will be a Marmite factor, it does bring shape and form to the whispers of stories past and put a signature to their invigoration of songs. Like a whisper travelling across the edges of your mind, Harp and a Monkey get in, reverberate and add to the mysteries of this world.
Eliza Carthy and The Wayward Band
Without a question a swirling vortex of wind, Eliza Carthy et al's entrance and reception at Derby Folk Festival is a reminder (in case you have been living under a no-folk rock for many years) that some voices cannot be contained by the constraints of nature.
Eliza Carthy and the Wayward Band have been formed since 2013. Twelve in number and probably 12 in volume and energy (sorry Spinal Tap), the band have gone from strength of strength especially since the launch of their 2016 work "Big Machine."
Theatrical in sound, style and appearance it is a very awesome sight to behold. Ducking and weaving, jumping off the stage and bringing the feeling, Carthy and band certainly live up to the expectations from the album. They played some of our personal favourites such as, "Devil in the Woman" (a track of outrage and grit), "The Fitters Song" (a dark musical, but a number too good for any theatre I know) and the earthy, breathless "Hug you like a Mountain." Words and descriptions do not really come close to the magic, spinning wonder and percussive excitement that you get from this individualistic band and show. It is like they bring the explosive pop of the champagne bottle to the Saturday, and we do not hesitate to put the group in our top three of Derby Folk Festival.
The Willows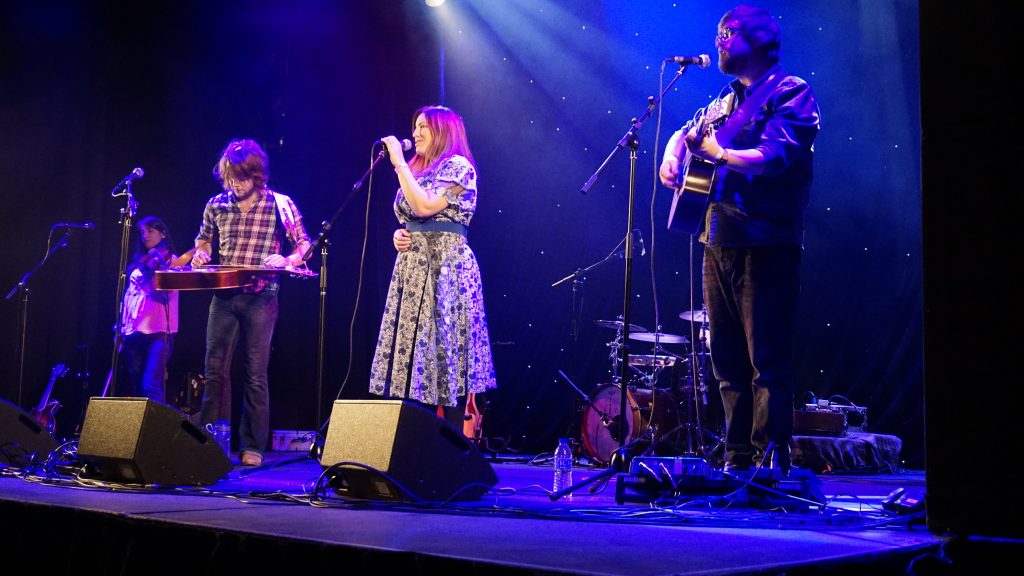 The day after In the Guildhall Theatre on Sunday we get the very big treat of seeing another rather special folk group that also comprises of some top-notch musicians. Just prior to the release of their third album, "Through the Wild" we meet Jade Rhiannon and band as they prepare for a focused, clean and intensive set. It is a show we have been waiting to see for rather a while.

Straddling a canyon of folk rock, folk pop and hints of indie, The Willows are a step into a unashamedly full, refined soundscape with a strong baseline and vocals that evoke the warmest of times. Somewhat easy listening, somewhat 90's popular folk the limits of their reach cannot be fully measured in this blogpost; but we do manage to reach a verdict on their show.

Before we get there, we have to think about their set. There is something here for everyone, "The Visitor" is uplifting and a pretty tasty bit of percussion, "Better Days" is a sweet and optimistic song though it winds its body around a contemplation of grief, and "False Light" a song about the ghost lights of the fens. With False Light in particular you get a song with a supernatural theme being turned into a belting, big sound event. Melodic to the last and rocking from the start, The Willows make a case for a wider sound, quite probably with larger mainstream appeal and musicians looking for something a little faster and fuller like a turbo-charged double-decker bus.
We enjoy their set and have had a good listen to their third album since; certainly an interesting and inspired choice for the festival.

Sam Kelly & The Lost Boys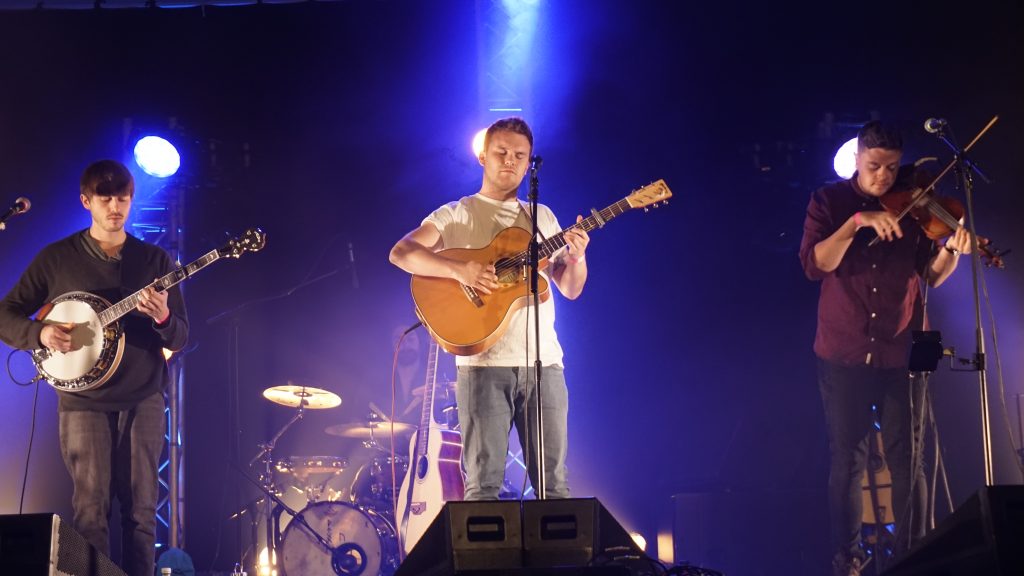 There is a lot to see and fatigue can set in towards the end of a festival though Derby Folk has a secret up their sleeves. It is in fact Sam Kelly & The Lost Boys!

We do like these guys. Their folk music is unabashed fun and melodic, they are dead cheerful in demeanour and they do know how to put on a show. Most importantly you sometimes want to listen to a bit of folk that makes you feel good, Kelly and associates do not disappoint.

At this point they are probably stood on a tall stone surveying the land and maybe breathing in the fresh air as they have a couple of albums out and their initial ep, and pretty much everybody know who they are. This is a good gig to see for it is an act of consolidation and reflection. They cover several songs from both albums including the affirming "Spokes", a song which is one of our favourite interpretations of "A Golden Vanity", anthemic "The Jolly Waggoners" and many many more. They have a lot of good material both slow and fast and this gig certainly reminds us of their ascent into the limelight. We look forward to seeing where they go next!
Lady Maisery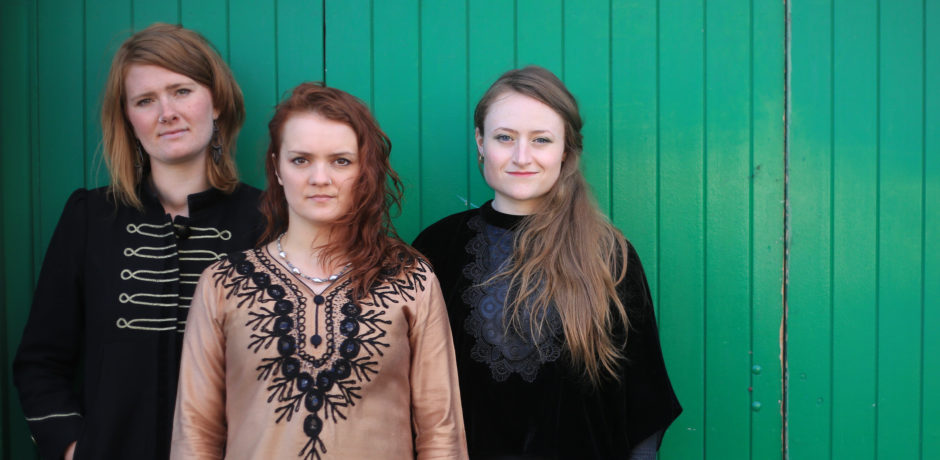 This of course brings us to Lady Maisery. Before we get into the nitty-gritty, let us say that Lady Maisery were for us, hands down the best act at Derby Folk Festival. It is not a statement we take lightly or with any intention to downplay the other excellent acts that were there.

Why? Might you ask. It is no secret we rate the vocals of Hazel Askew, Rowan Rheingans and Hannah James at the top of their game but they brought something else which they admitted themselves had reinvigorated their enjoyment of the live scene. That is, their sound engineer.

Apologies for my failings. At first I couldn't get a good picture and secondly I didn't write down the sound engineer's name. But when hearing the trio within the Guildhall, and with this level of sound production and management it is pretty close to perfect. Clear, resonating vocals and a show that takes many favourites from across their albums such as "The Factory Girl", "Order and Chaos", "Honest Work" and the excellent "Poor Man's Lamentation" from the multi-artist Songs of Separation disc (one of the best works we have heard of all time).

Combining a sense of general societal political songs (not anything about the current situation thank goodness), poignant and dark tales of human beings and a sternum-shattering cohesive, beautiful sound their often (but not always) unaccompanied voices are pure magic.
For that reason they are our third pick of the festival and an act that you should not miss should the chance arise to see them!
And Many Others…
The crowd going wild for Sam Kelly

A bit of street morris

Kim Lowings and the Greenwood with some material new and old

Jack Rutter

What treasure exists within?

The Lucy Ward Band

Oka Vanga

The Carrivicks

The Kimberleys
There are many, many others who graced the stage who we saw and enjoyed thorough. Midnight Skyracer, the all-female bluegrass phenomenon were here continuing their explosive entry into the scene with fast fiddle, deep bass and an incredibly joyous set of songs to behold. Jack Rutterer had a great acoustic set touching on folk of all corners including the well-known "John Barleycorn", The Kimberleys remind of acoustic folk of old: simple, happy and refreshing, and Oka Vanga have their time in the light of Derby Cathedral bringing songs of myth, nature and heartbreak.
So all-in-all an excellent festival. We saw a lot of artists here, many who we haven't mentioned- the joy of Derby Folk Festival is it certainly gets the artists in!
Check out our sample videos below of the acts and get over to their websites for more information about them!
Keep your eyes open for Derby Folk 2019 and do not forget to get your ticket when the time comes at the website.