A hallmark example of a revival done well, "The Transports" brings stalwarts of the folk world to tell affecting stories through song and history.
Introduction
Peter Bellamy's folk ballad opera about migration, "The Transports" is back. Having it's 40th Anniversary it does not so much ask the crowd to continue dancing, but rather teaches a few new steps that should encourage the shyest member to put on their shoes and join the party. It does this through an injection of modern stories, local history research, and a selection of eminent and accomplished musicians who makeup the cast.  On tour at a number of venues, it is a dazzling and consummate collection of songs and stories that can clearly be seen to have been sharpened by the whetstone of politics. But while there is a strong theme around migration and hardship, there is also a lot of love and altruism here and the strongest theme that emerges is people's visible spirit of optimism even when one is short of life choices. We shall return to this later.
Funded by the Arts Council England, we went to see the show at the grand Opera House in Buxton, Derbyshire (and a lovely venue it was too).
There is a lot to see and think about in this theatre event, so in turn let us look at the three main strands within the performance: the historical part, the contemporary links, and the song performances themselves.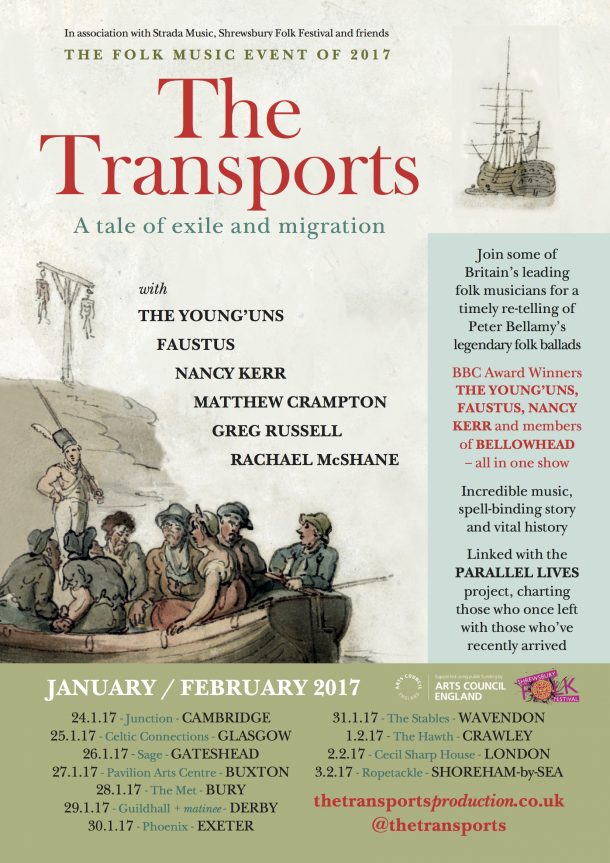 Historical Bits
So "The Transports" is based around 1783. It starts with the story of Henry Cabel (Sean Cooney) who is an honest man in Suffolk looking at his neighbours in Norfolk and their wealth. He is down on his luck and struggling to feed himself; as the narrator (Matthew Crampton) says, "He's a good man.. but he's getting tempted." This is the first of many explanations by the narrator which paints a morally grey landscape for all the people whatever their time of history, there is a lot of philosophical complexity to be wrought here. Crampton does a good job throughout of planting the seed of reflection in the audience, giving them the context and the tools and asking them if they would have acted differently in such a harsh and brutal world where the stakes are much higher. Crampton has a great voice that entices and explains. He pulls the audience in like a magical toyshop owner, he has some joy and sorrow that he cannot live to keep to himself. His investment in the role is not only visible to see, it can be gleaned from his wonderful research of Parallel Lines that feeds directly into parts of the play (more on this later).
The story progresses, Henry's desperation leads leads to some unfortunate consequences with him joining with vagabond Abe Carman (David Eagle from the Young 'Uns) to attempt burglary, They are caught, go to trial and then there are some bad outcomes.. and some very bad outcomes. Mostly framed around the songs, "The Transports" doesn't so much explain every inner and outer working of the character in their song like in musicals per se (there are no songs about doing laundry for example), it rather opens a space for a broader discussion, a wider personal reflection about that character's feelings. There are  a few acting segments that illustrate this too, though it is much more about the song. That being said, David Eagle makes a truly lothesome yet fetching man of different moral dispositions in his role which made me think extensively of Fagin (the pickpocket from Oliver Twist, not James Fagan to clarify). His time is short, but the performance both inside and outside the "Robber's Song" is a something to enjoy a lot. From all the musicians (barring maybe Greg Russell's Turnkey) he carries more of the mannerisms into the song and embodies the character such that is certainly memorable.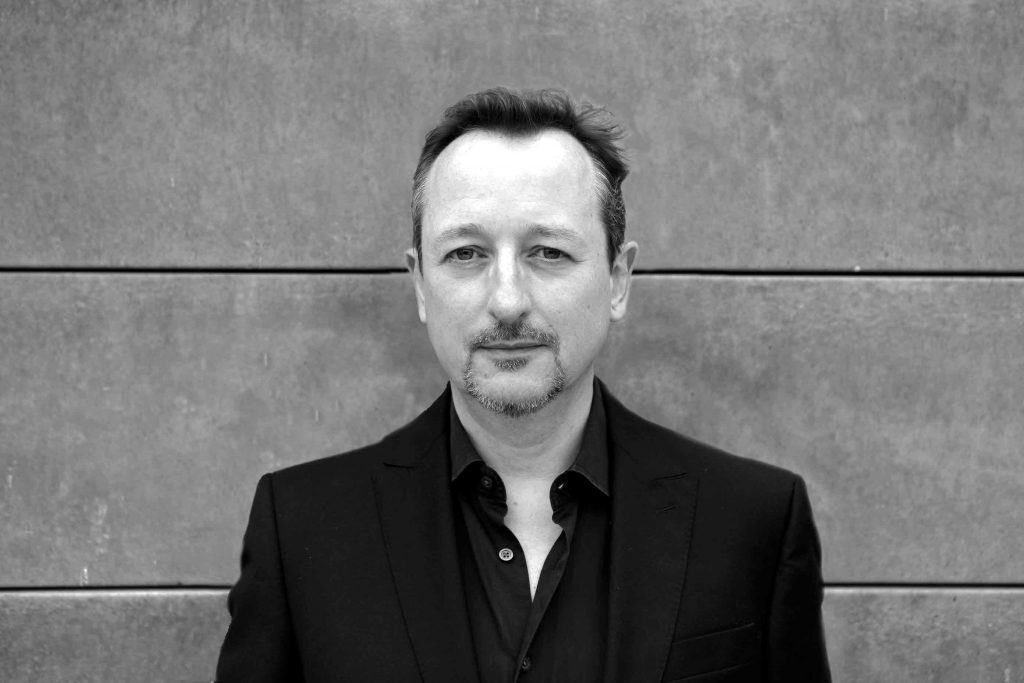 As the play continues events move like the great waves between England and Australia, up and down with joy and grief. Henry meets Susannah (Rachael Mcshane) his future wife in prison and we begin to see some of the joys and the warmth that can be found in oppressive circumstances. Rachael plays her role with some grace and kindness whilst Cooney's Henry is hopeful and the aforementioned Turnkey (Greg Russell) has a whale of a time being the hero (though not at carrying newborns). Alongside the artists having an acting turn, the choice of having the narrator direct so much of the action and explain what is happening is a good one. It means the musicians can play to their strengths and focus their characters into their musical numbers and tightens what we see; especially as the the whole cast necessarily are on the stage at all times.
As mentioned already, there is a huge silver streak of optimism within the play that doesn't paint the historical situation as "entirely hopeless" even when things seem bad: love can happen in a prison or someone's conscience will often lead them to a good deed. It mentions "change" in the form of the French Revolution and portrays England interestingly as a social pot about to boil over. It makes the times multi-faceted and lifts from the writing Bellamy's faith in people to do good things. Even when people do less good things it is either through an attempt to control oppressive circumstances (Susannah stealing cutlery to escape being effectively a slave) or as a small footnote to a future of great accomplishment on the right side of the law. The play certainly makes you think about the notions of rehabilitation, circumstance, and morality.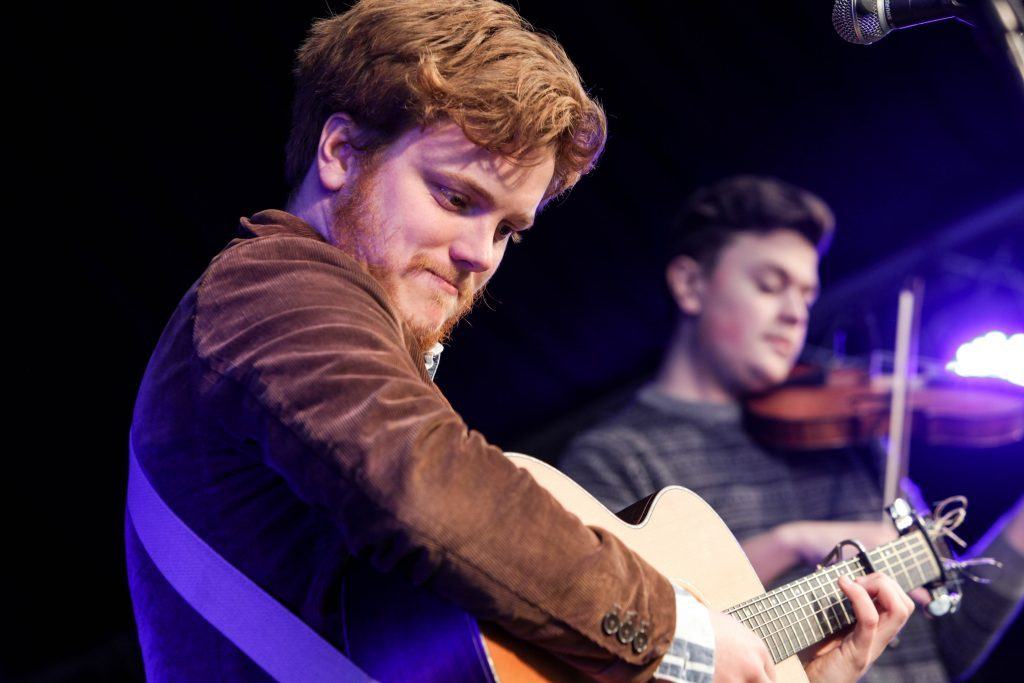 Contemporary Links
One of the joys of seeing "The Transports" is it's knowing looks at how the themes in the historical story are still very much a part of our modern fabric.
Returning to Matthew Crampton's narrator, there are a number of wry references to the "privately-run" prisons of the time (and now), but also a sharing of the names of people involved in another exodus from London to the textile mills of Derbyshire. Through the research of the Parallel Lines project, he mentions the grim applications of the Poor Law and the experiences of children working in industry. The disparity between the lives they were promised and the lives they actually led is quite jarring, for locals who might not be aware of the price to dignity that some industries have made, this play is quite an eye-opener.  Each show is different too. Depending on the venue, the narrator gives the names of local people from history who have suffered similar fates and hardships based on the decisions of industry owners and Government. Doubtless there are parts of the tour which even more history than being seen at Buxton but even the smallest mentions of a person or two are enough to think of these cruel times and how far (in some ways) we have come. It was both enlightening and sad. The effort to integrate this research into the play has the effect of slowing down events, but it is a poignant and relevant stop which really adds a cultural significance, and a heart to this showing of "The Transports".
Another significant and pretty heart-wrenching modern link is the production's choice to include the Young 'Uns song, "Dark Water." Telling the story of two Syrian refugees attempting to swim across the Aegean Sea it is a claustrophobic, gutting and poignant song. With the media spotlighting this issue a lot last year, this brings it back again explaining much like for the characters of the piece Henry and Sussanah, that these journeys are an ultimate risk that flies in the face of modern discourses against immigrants. Rather than seeing asylum seekers as mildly inconvenienced, carefree people and are coming to this Country to scam hard workers, it highlights a desperation that can only come from all-consuming hopelessness. It is a timely reminder of a risk-taking decision we could all very easily have to make if our lives got threatened in the same way through war or famine.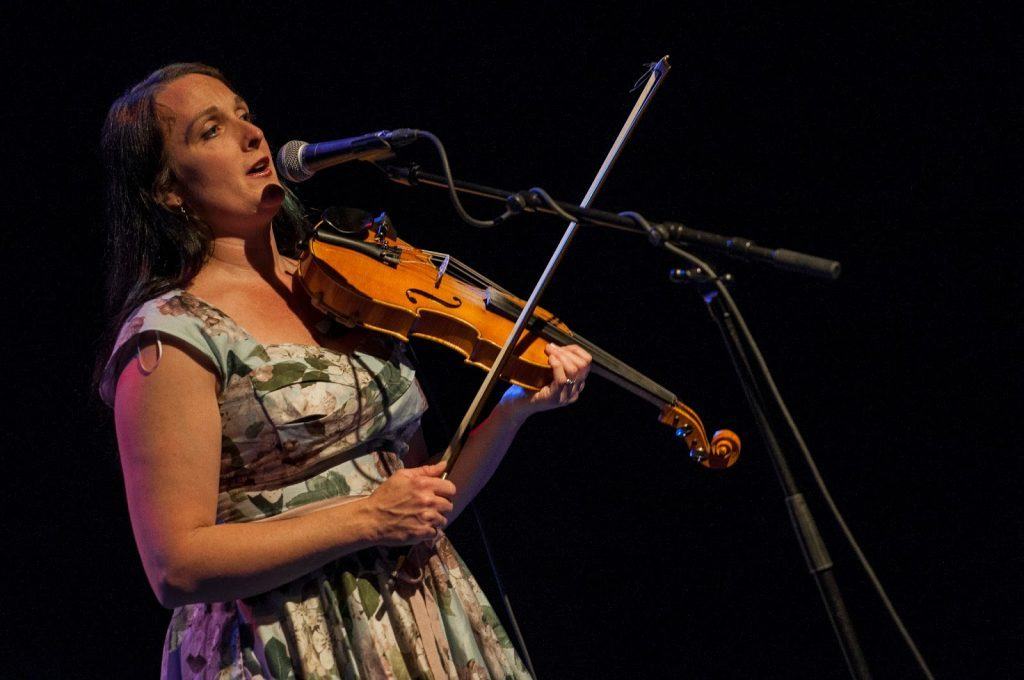 Songs and Music
This production of "The Transports" is certainly an energetic one. It helps that much like the original run (that had influential folk artists such as Norma Waterson, Martin Carthy and June Tabor to just name a handful), a number of recognised and young artists are involved in this.
Joining those already mentioned (Sean Cooney, David Eagle, Rachael McShane, Gregg Russell) there is also Michael Hughes (the Young Un's) Nancy Kerr, and the members of Faustus (Paul Sartin, Saul Rose, Benji Kirkpatrick) who bring their trademark qualities of solemness, raucous energy, and focus to a pretty varied roster of songs. It is an impressive lineup that delivers some memorable experiences with each several highlights throughout.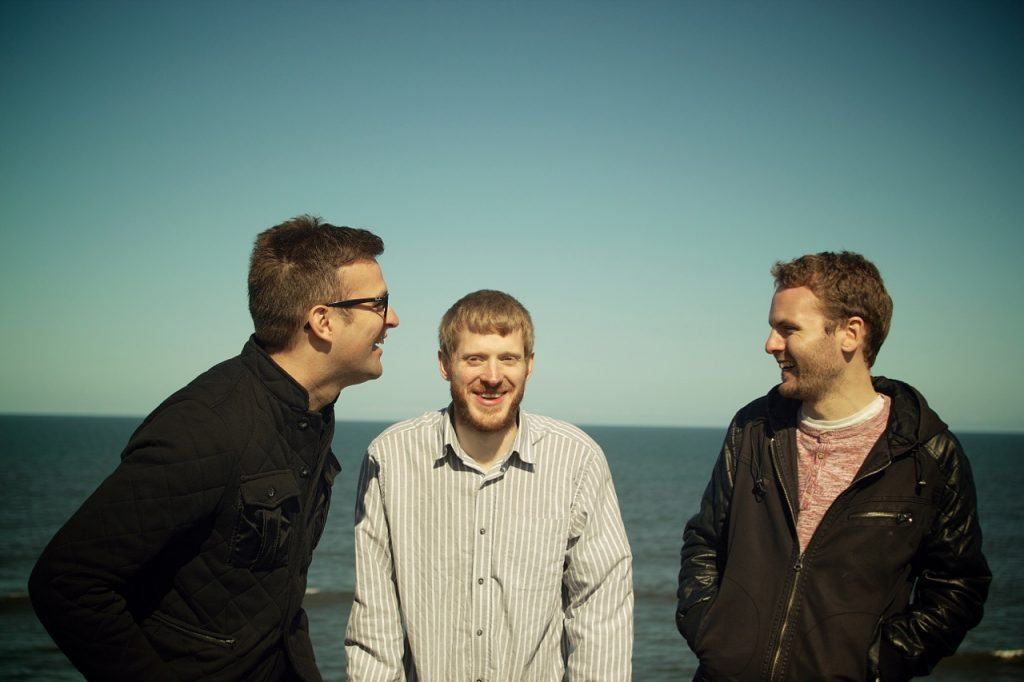 All are great without exception. There are the beautiful laments of The Mother (Nancy Kerr), a wonderful number with Rachael McShane and Sean Conney that looks towards freedom, and a few other that are equally affecting. The opening Overture song is especially strong; it is clearly a sprint start and Paul Sartin's voice and passion gives the beginning of this longboat of a play the oars that will push it onward. The Young 'Uns seem like they born to do "The Transports", especially as their music has more than once taken a cue from modern news (listen to Carriage 12) and the magnitude of their unaccompanied voices sits incredibly well with fellow award winners here. Another number which is especially fun is "Plymouth Mail". What can only be described as a "land shanty" in my vocabulary, is a galloping, high octane number with the horses of the cart pulling with an energy and determination that matches the accompanying scene perfectly. There are some quieter moments too, but of course it all ramps up again for the finale. The final performance of "Roll Down" is certainly a powerhouse in every sense of the word. Going out on a sublime high, the ensemble case gives it more welly than a gaggle of pirate wanglers. Amazingly deep, rousing and quite brilliant, the show goes out with an unmatcheable gusto.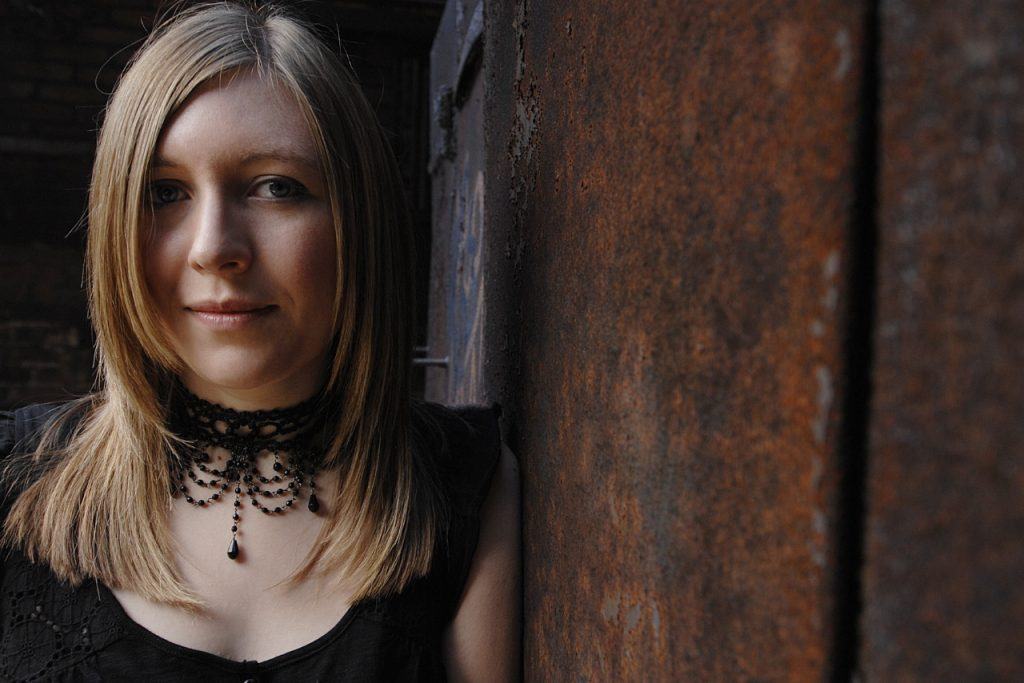 In Conclusion
All together, a great contemporary take."The Transports" in 2017 is a triumph in it's mix of song performance, history and human philosophies. Fans of the artists involved should go just to see them all in one place, but compared to what else this whole production brings this would be the slimmest of reasons for enjoying it. Kudos to creative producer Tim Dalling's inputs and Paul Sartin's role of Musical Director which has shaped a hugely spirited, and committed modern take that feels very faithful to the core messages of Peter Bellamy.
There is a lot here, a lot to take in, and 40 years since the play first went around it feels inside like it is as relevant as ever .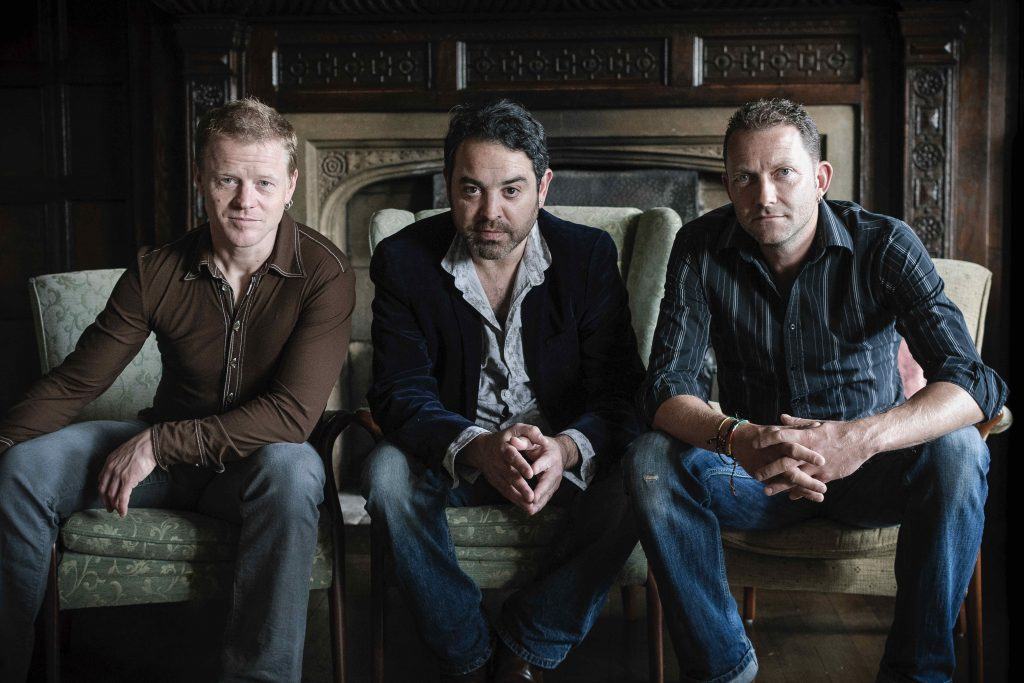 Some tickets are available for the touring show on "The Transports" website here.
If you are still unsure, have a look at their preview video below.
The images used in this post belong to their respective owners, I do not imply ownership of them with their inclusion here.