America's presidential elections are big news.
Whether you adore the red, white or blue in the form of stars and stripes or if you are more a rectangles kind of person; the outcome of the election will undoubtedly have some bearing on your life, and not just if you are a US citizen.
Up until last week the competition seemed fairly close between Clinton and Trump. I truly do not want to say what will happen in the end, but the recent news coverage and found footage of Donald Trump boasting about his attempts to have sex with a married woman  at best upset harmonious living between the sexes and Donald Trump's image, and at it's worse damage society and reinforce the horrendous attitudes that prevail in some people's minds (it depends on your interpretation). He might not win now because of it. Whatever the final outcome brings to the world there are alongside it people with things to say, songs to sing and politics to dance, tap and speak out about and Ani DiFranco is one of these people.
With a career that has grown into a success over 27 years, Ani has put the hours through the release of over 20 albums and fairly recently a recipient of the Woodie Guthrie award confirming that she is in every sense a being of politics. Since her early work in the 90s to now,she has clearly seen a lot, feels a lot and represents a certain moral fiber as a juggernaut of unflinching, self-aware musicianship. She has portrayed folk and the rest of the melting pot of her musical influences to the world as an agent of change and is a deeply grounded individual who continues to stand for social justice and her latest video "Play God"  (released 7 October) doesn't show any signs of cashing in anytime soon.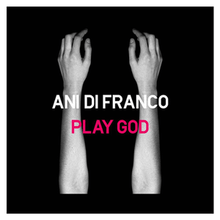 As part of her current tour "VOTE DAMMIT" she burns with a flame of fortitude that crackles with blue gusto in her attempts to sway the minds of the disillusioned and apolitical to get them to practice the rights that were hard fought for in times past. Ani's own production company Righteous Babe in collaboration with Aveline Records steps out to add to these voices, broadening the message in an ever narrowing political debate through society. She whips up her crowd into a psychedelic, retro funk which entertains and informs at the same time.
This funky mastery "Play God" comes at us with gnarling lyrics and a slightly scratchy, purposeful video that is both the swinging spirit of political marches for pro choice as well as a more personal melody in some scenes (where she is alone in the church). Her lyrics reflect the political but also highlight the fully personal nature of these decisions, "I pay my taxes like any workin' man and I feel I've earned my right to choose". It grooves and sports a thick layer of defiant blues protest that in it's feminism has shades of Aretha Franklin's "Think", Hendrix's guitar-play, and aspects of modern singer-songwriters (e.g. Ruth Theodore) spliced with Woody Guthrie's indomitable purpose. In vibe it undeniably succeeds at the difficult task of not sounding as a pastiche of earlier works and rather than building on older rock founders sounds like it's equal or perhaps the glimpse of an alternative if time and space had dropped Ani at the feet or Rock and Roll originator, Sister Rosetta Tharpe. It's mixing (Tchad Blak) and mastering (Brian Lucey) also gives it the feeling of shifting sands with a general sound combining many elements with it's hotbed of older rock baselines that chew through political resistance in a persuasive, essential way.
just one thing that a man needs
to be truly free
this is the modern world
and that one thing is money
but there are two things
that a woman needs
control over her own body
A great song that argues for a necessary link between a woman's freedom, and her freedom over her choice to carry life. Throughout it has a hypnotic guitar line and a shrewd, clever, political singing voice that brings clarity during a time of confusion and flux over civil liberties. Check this song out, it will make you think. It might not make you decide, but it will give you the everyman/everywoman/everyperson's experiences of diminished rights and ask you to make your placard and let your voice be heard.
"Play God" is  a sample of what is to come in Ani DiFranco's upcoming studio album, see her website here and checkout the video for yourself below.