On the final day of the Derby Folk Weekend after being buoyed by the proceedings thus far, we come to the final run of acts.
We have enjoyed the variety and the different flavours of the folk world, and the final day continued this trend.
---
Old Spot
Having already skirted (or dipped in an out of) some Appalachian numbers previously with the Magpies Duo, we awake to the background of the sun shining over the mountaintop and go full Old-Timey with the band "Old Spot". Old Spot is comprised of Rowan Pigott and Joe Danks playing fiddle and banjo respectively as they tackle the melting pot that is this region's music. If you search for "Old Spot" pigs on Google you will undoubtedly find a description of them as "a hardy breed able to cope with most conditions" and having a reputation as an "excellent forager". This is a funny but accurate description of their reach towards this genre of music.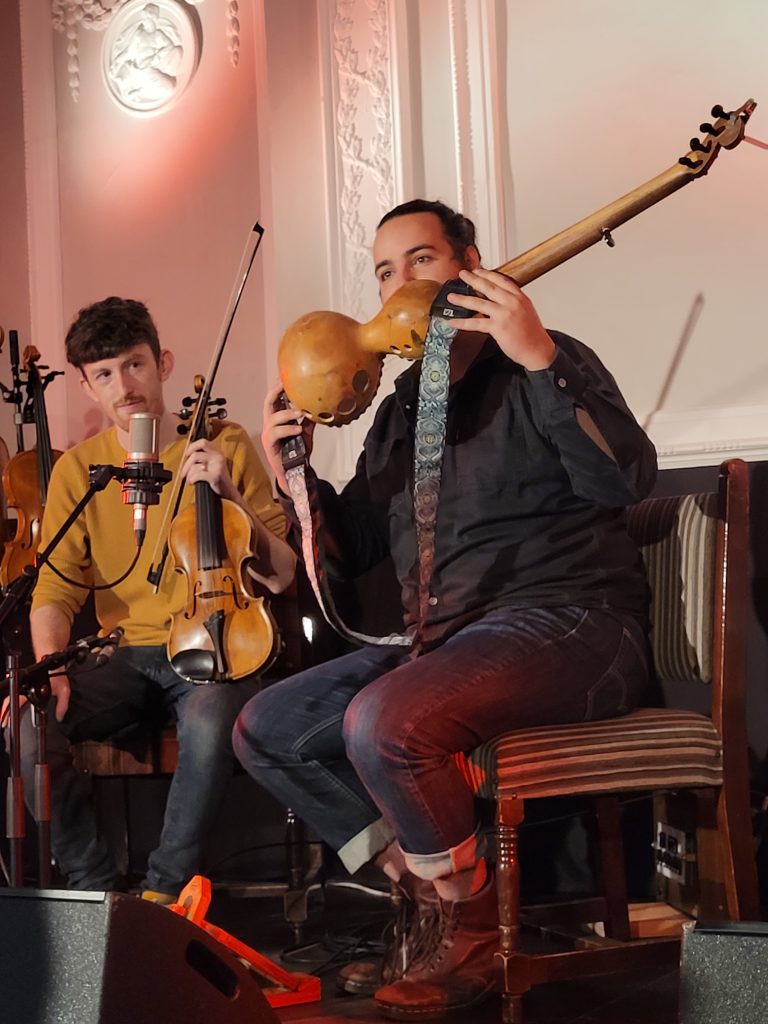 For their set we see and hear some marvellous numbers be it starting with "Louis Collins" a Mississippi John Hurt murder ballad with an enigmatic origin and subject matter, "the angels laid him away, laid him six feet under the clay". Another great number was the Aberystwythian, Red Kite track, "Fly That Red Kite". Delicately played it is both the hangover response and some of the previous night's revelrie floating in the distant vision much like the collection of Red Kites and sore head that inspired the track. A rich, bitter travelling number, "Otter Creek" is a contemporary old-time number written by Brad Kolodner that still oozes atmosphere despite the downsizing from additional hammered dulcimer and double bass.
We get the feeling that Old Spot were more like a "Dark Horse" than a pig, as their merch stall gets swamped afterwards. They have clearly lit the beacon on Mount Mitchell and they (the audience) have all gathered.
---
Kieran Towers and Charlotte Carrivick
(http://www.towerscarrivick.co.uk/)
The vibe continues with an established duo of artists who have their own hands in interpreting Appalachian Music. It is good to see this combination of artists for a snapshot in Derby as they have been all over, and it is doubly good that the high energy, generous enjoyment of this old music is as interesting as it was around the first time we saw them (when they were just starting out as a duo, in what seems like another world).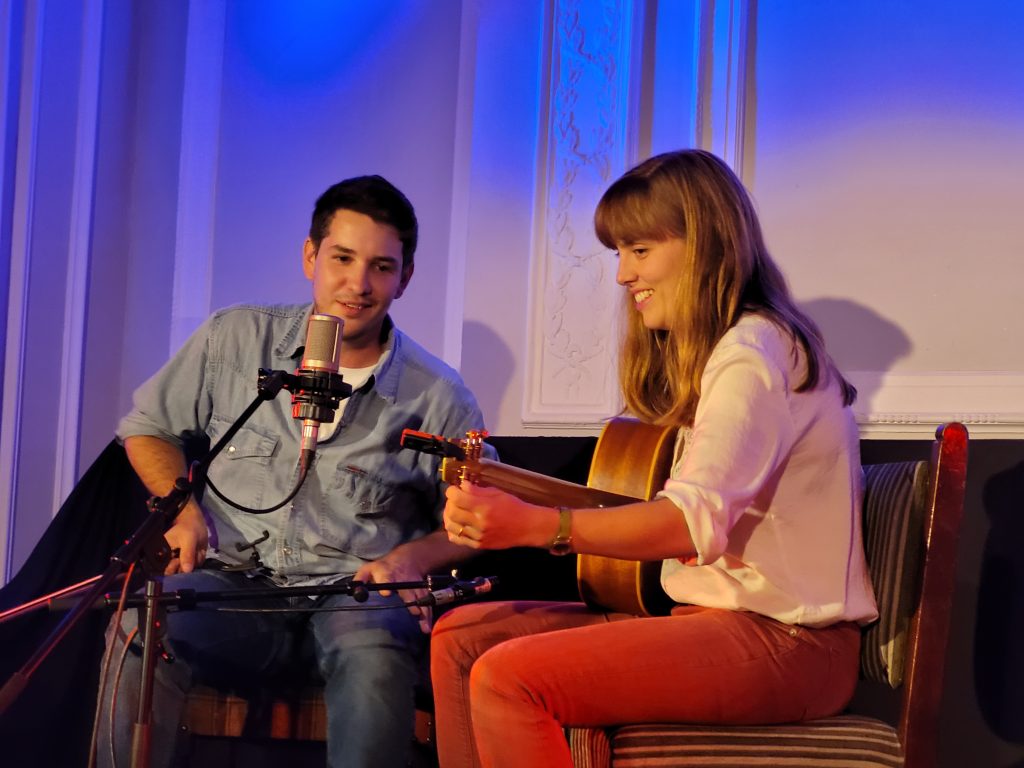 There were many tunes that warmed like the late morning sun, "Wolve a-Howling" is a good one invoking the lupine presence on a balmy prairie. A fairly fast number, the fiddle and banjo sparkles as always. Similar animal-centric there is the even more frantic scramble which is "We'll Die In The Pig Pen Fighting" a raucous, sweeping melody that in it's succint way describes a pig describing how they will escape. In terms of a plan, Chicken Run it is not. They also gave us a version of one of our favourites, "The Blackest Crow" which works due to the characterful fiddle work by Towers and Carrivick's mournful voice par excellence. A hot combination following the Old Time early morning we had just heard.
As a cool bonus, Towers & Carrivick teamed up with Old Spot to play together at the end of the set, see our sample here. Excellent stuff.
---
Trish & Mark Kerrison with
Fi Fraser- "From Como Boy to Coram Girl"
After a bit of a break we return to something quite a bit different. "From Como Boy to Coram Girl" a story described as one about, "war, work and love – travels through the Industrial Revolution". A gentle and affecting story that spans the Alps, the lace industry in Nottingham, Liverpool and the sea there is a lot to like with this performance. Aspects of this play reminded us of how far we have come, and hearing my own family's stories of the experiences of mothers out of wedlock and how society treated them. There is not much we want to give away, but the throughline of acoustic guitar and song paints a vivid picture, especially when a member of the family the story follows was in the audience listening.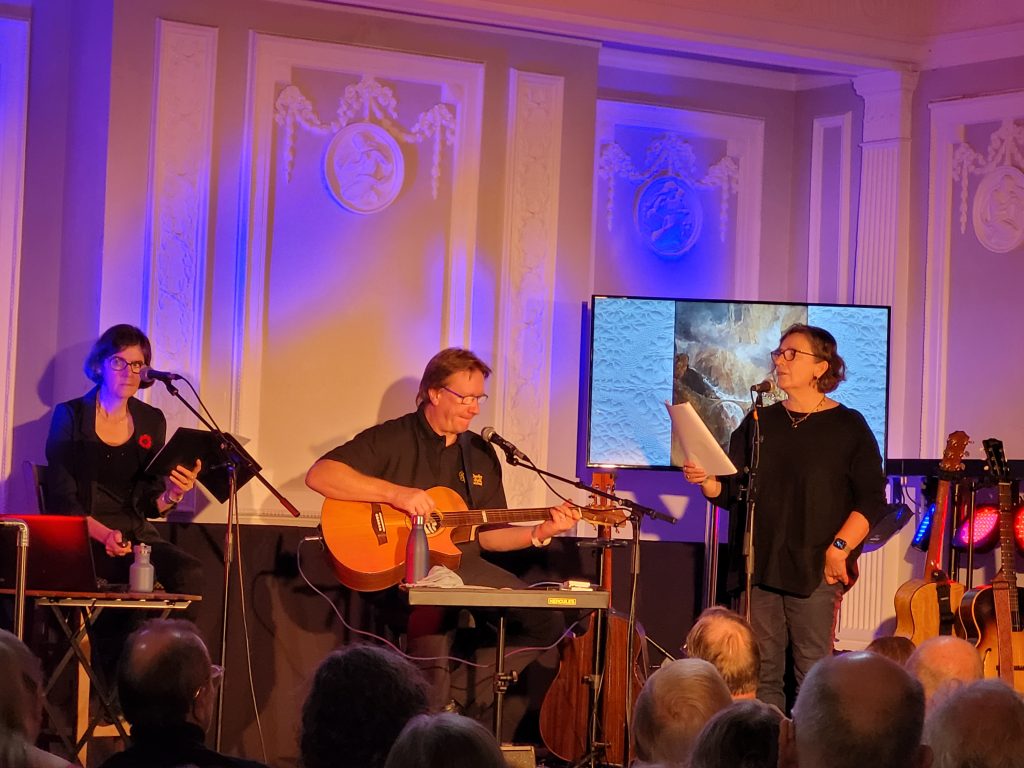 Certainly something different for the final day of the festival, but like previous festivals in Derby, it is especially nice to have something a bit more theatrical in the mix.
---
Katie Spencer
What can we say about Katie Spencer? An artist new to us, but one who inspires people who are fans of Joni Mitchell and Michael Chapman an their style of singer/songwriter stylings. Spencer's set was the kind of stuff you go to festivals for with it's contemplative, emotional welded strings and moody bite, it is an understatement to say we were impressed.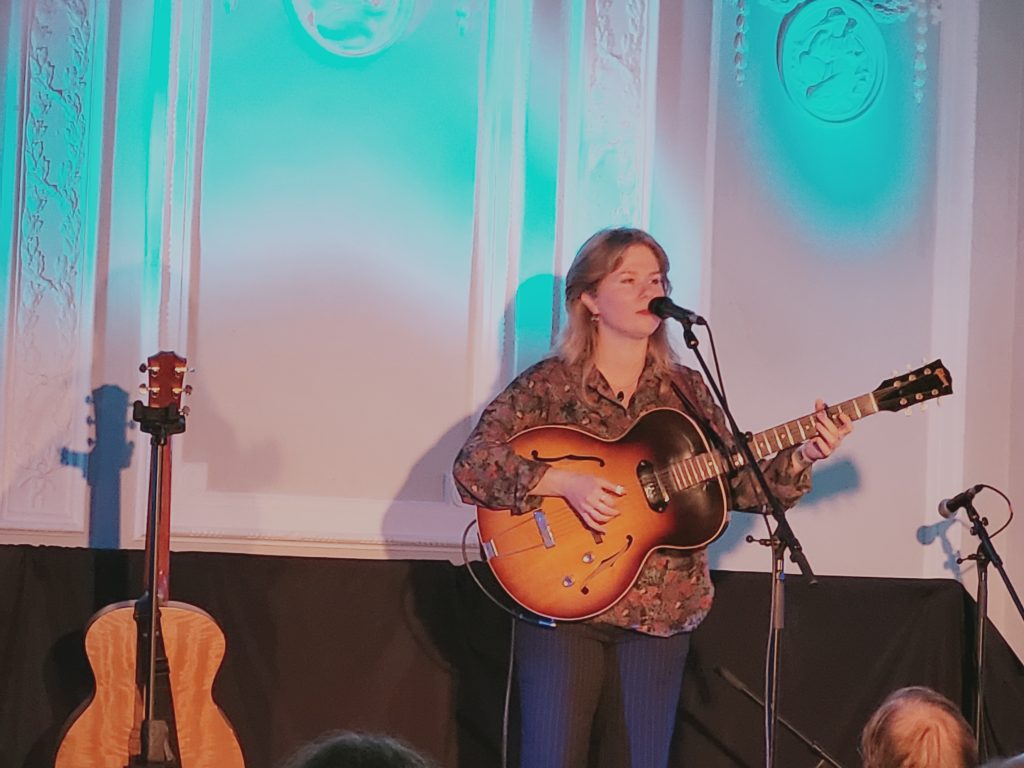 Spencer's "The Edge of a Land" is much like many of her other works, steeped in the industrial heart of Hull and it's changing face and role. Her voice evokes another time, and here she uses it to vibrate the sinews of the sea as they lose hold of the memories they keep. "Shannon Road" is a snapshot to a place where Spencer weaves a picture of an old road she returns to with the hints of the characters underneath, her spiralling voice and lyricism prods the exterior of the area to see the shades of light and dark within. There is much else to like here including her commission from the Yorkshire Folk Archive, the "Shipyard of Beverley" and "Forevermore", a newer song which had the feeling of the "silver lining" on dark clouds.
We don't purport to be naturally enthusiastic to solo guitar artists and their work, it usually takes something a bit more special to hook us in. Katie Spencer has spun the mind around with her introspective lyrics that when paired with voice and guitar peel back and intrigue is in the best way of the phenomenon that is music.
---
Doug Eunson and Sarah Matthews
(Doug Eunson and Sarah Matthews DUO)
The penultimate performance is a well-received and anticipated performance by Doug Eunson and Sarah Matthews. A set littered with old favourites and drawing on collections familiar to trad fans, they are a strong, accomplished duo who bolster the entire festival.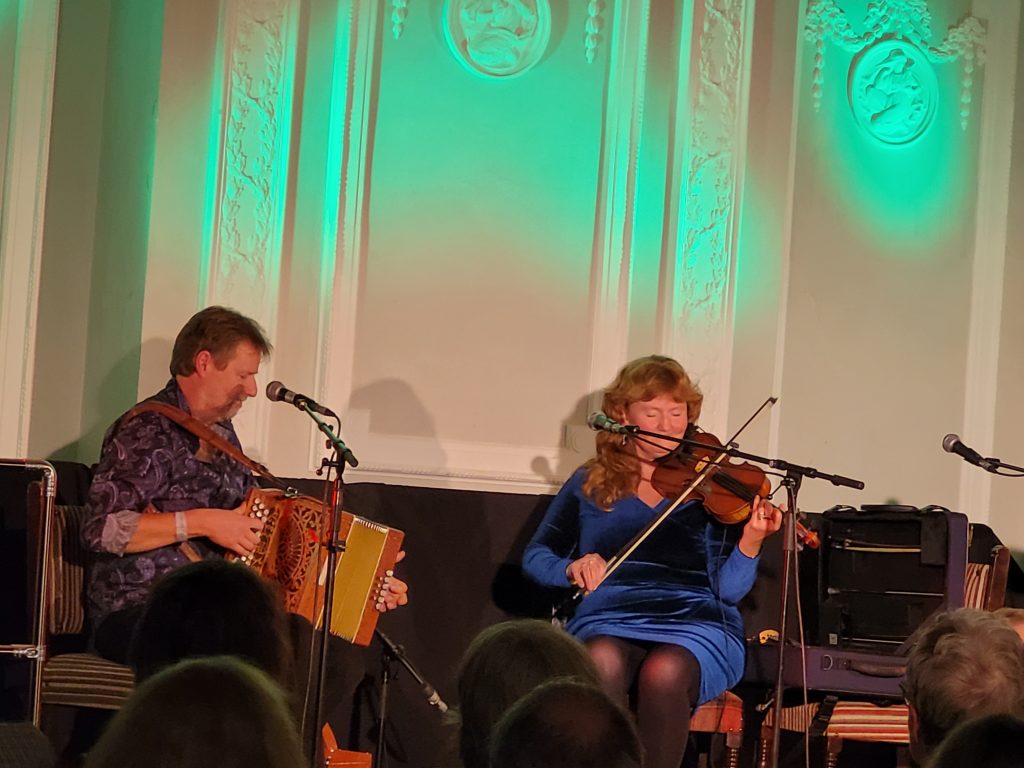 Probably the funniest, cleverest lyrics of the festival we strongly remember a rendition of Robert W Service's "In Praise of Alcohol" that was sung, it's comedy only getting bigger by the second. Folk mainstay, "John Barleycorn" also made an appearance to which everyone raised their voices in joy, and of course, knew the words. We were also treated to a melodic, beautifully performed "Willie's Lady" about a disapproving mother capable to giving out curses (one of our favourite stories in folk). Eunson and Matthews have great chemistry, their voices fit like chocolate and peanut butter. They are definitely a duo to see if you like if you enjoy your folk music adorned closer to your picture of traditional tunes, albeit with great composition, performance and reworking. Think of Steve Reeves with a loin cloth, classic.
---
Tarren
Ending the festival, we come to Tarren a fairly young, fresh but pedigreed group of artists (Sid Goldsmith, Alex Garden, and Danny Pedler) whose skills cover the concertina, cittern, fiddle and accordion. There is a lot that stirs and excites in this groups music and their takes on classic compositions. Hornpipes and irregular fiddle tunings aplenty, we look forward to the show they are putting on.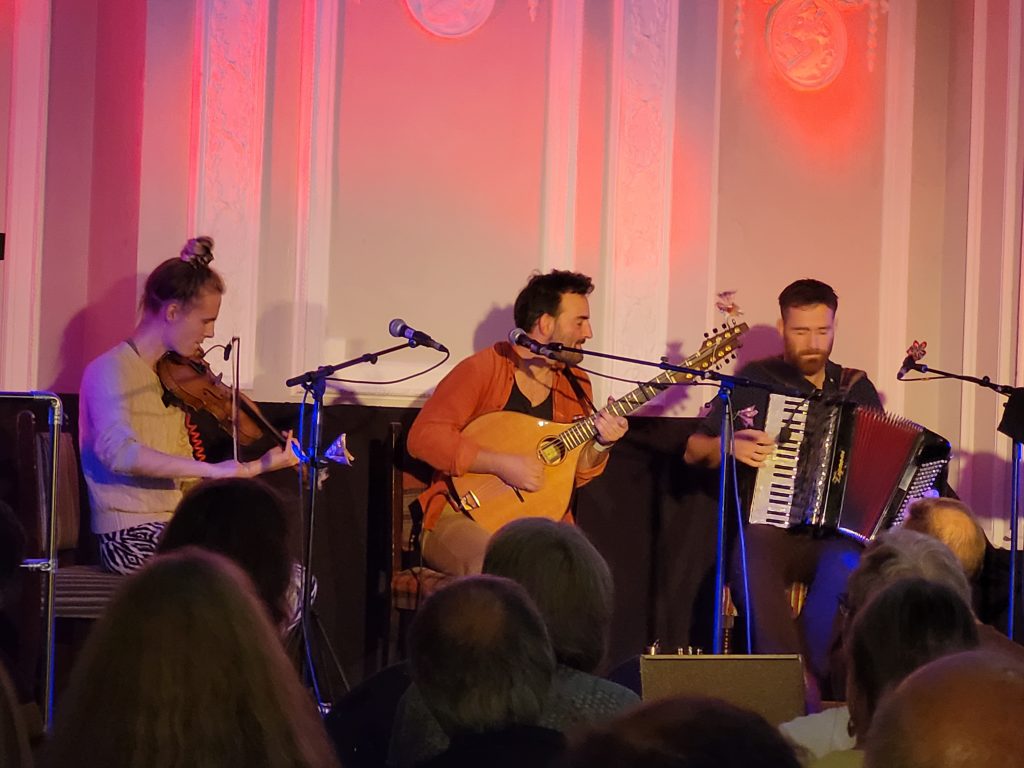 "Hot Wax" is a fantastic original tune conceived as a kind of "slow jig". It wanders, and much like the substance drips flashes of heat and energy as it progresses. A steady tune, the mix-up of instruments is sweet but with a rough, granular edge; it isn't showy, but rather reflective and hypnotic. "Rigs of the Time" is like a spiky gauntlet, it catches on a social feeling in whatever age it is worn really, but its constant reminder of corruption and feelings. Tarran continue the tradition of inventing new verses now, and several will probably continue into the endless future where there exploiters, greed, and people who have power over others. One of our favourites from their set, their instruments make a groove in the vinyl of our society.