Artist: Kate Rusby
Pure Records
An album of precise and selective instrumentation that concisely builds atmosphere and quality. Kate Rusby continues her good works through effectively combining traditional words and material with modern arrangements with a final product that impresses across the board.
Kate Rusby as we know is pretty much a folk music staple now. She has won practically all of the BBC2 Radio Folk Awards in a number of categories (Best Live Act, Best Album, Best Original Song, Folk Singer of the Year) to the point where she might have to create a new identity so she can have a stab at the Horizon Award too. It is well-deserved though, she started long before the recent notable boom in folk-pop and is very much a celebrity in these Yorkshire parts alongside Fay Hield and Nancy Kerr (and several others of course) in what could probably be considered the real "Northern Powerhouse". On her 14th Studio Album (getting over unlucky 13 for some, but not really her) and nearly 25  years in music she brings "Life in a Paper Boat" with a continued humility and charm.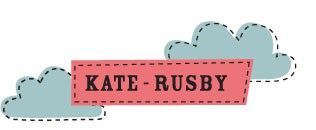 To begin it has to be mentioned that the album artwork is a pleasure to behold. Dark yet colourful on the outside and adorned with paper cut-outs and folds inside there is a playful element to the work that sits alongside the more serious matter of it's high quality production and photography. The album itself is bright and on listening is quite sensory, it  feels like a series of images are springing up all around and the artist herself to some extent is revelling in her inner child of curiosity. History, myth and wonder are very much a part of what is happening here and can be felt in the skeleton of this endeavour. It does not fully let itself loose though, several of the tracks are grounded in good folk providence and the disc never feels like it strays far from classical influences. For example, the recognisable figures such as "The Ardent Shepherdess", "The Mermaid", and "The Witch of Westmorland"  as more fantastical elements are all very present within this musical tapestry.
Producer Damien O'Kane steps with confidence in his job here as the subjects of the songs vary quite considerably between universal tales of love and more traditional and local content (Pace Egging Song). Much of the album is gentle in nature and aims to persuade by leading the listener through a scented garden rather than shouting down suggestions from a political soapbox.
The album has incredible wide appeal, it is not chic folk or folk music which longs to the gloom and misery it has a strong melody and comes at you with it's arms wide open. It is accessible but also appeals to history and despite some of the heavier topic within, Kate's trademark storytelling goes for the heart strings  and manages this with a great deal of success.
On listening, "Benjamin Bowmaneer" is my favourite opening track of an album this year, no questions asked.  The modern drum and golden percussion coupled with Kate's sirenesque voice brings a character and life to the tailor in the song who goes to war with a horse made of board. An Autumn feeling track it benefits from the artist having one hand creating a fun, believable legend and having one foot where she treads the battlegrounds of old England in the Hundred Years War. It also showcases the album to come with it's purposeful choices of creating programmed electric drumming (Josh Clark), electric guitar and accompanying strings throughout which gives it a luscious, rolling quality. When you get on to the disc you get a delightful opportunity to hear an artist deep in her stride with music which is warm-heartedness that is traditional in subject but with a modern and attention provoking musical composition. For example, the use of electric guitar and banjo in "The Mermaid" is slight in form in that despite the expected lyrical love for the sea, the ambience created from the instrument feels more like the sun-bleached backing from some late 90's dance-pop I've experienced. Saying this does not to discredit the tune or it's folk origins, for me the memories of the sun and carefree love of life  was triggered by the unexpected use of these strings here and it certainly brings images of the coast which is certainly part of the sensory intention of the work. Rusby's voice is particularly seeking in this track and combined with the more tightly wove backing sound sound it constructs the simplicity of an image of the sea, the waves and the joy all together in one place.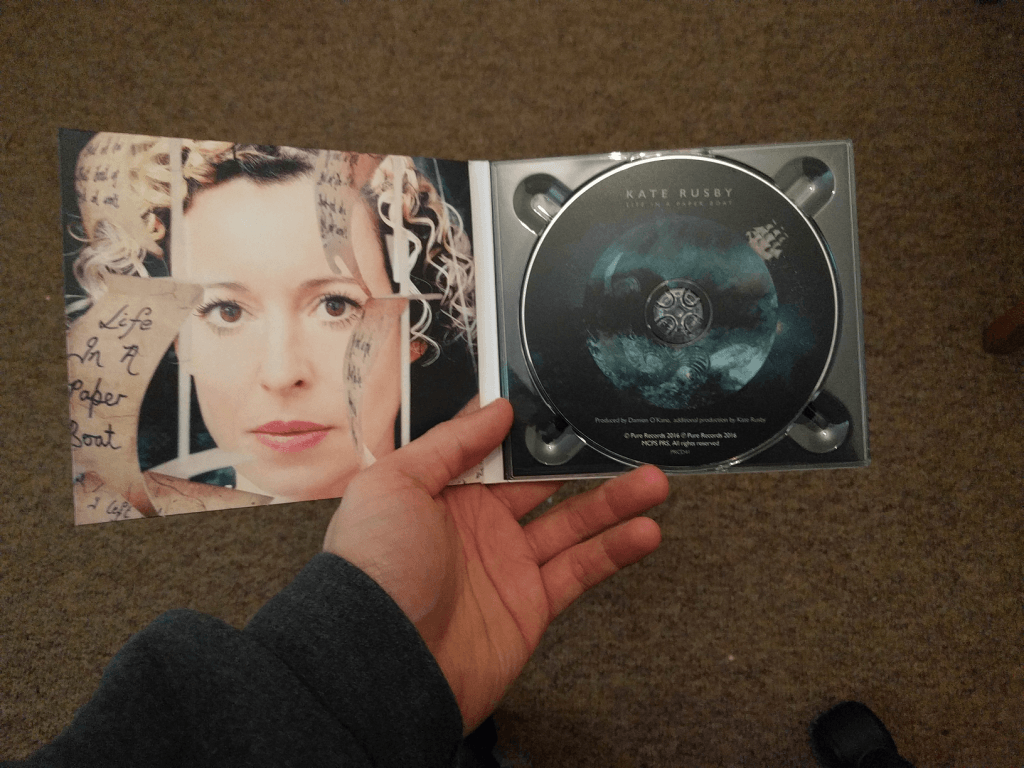 "The Ardent Shepardess" is quite a complex piece with a rich, leathery string soundscape that deepens all involved. Rusby's voice is empathic and open, the double bass (Duncan Lyall) is earthy, the banjo (Ron Block) is positively electrifying in execution. The old words combine with Rusby's tune and it all melds together, fiddles and all in a warming number that spins and impresses. "I'll be Wise" is likewise a sweet number with continued great strings. The double bass is almost like a heart beat as it plays a counterpoint to Rusby's defiance of cooler reasoning (of head over heart) within the song, "There I see him, I swore I'd walk on by him, but I cannot resist and stop to eye him." The other fiddles (Donald Grant and Magnus Johnston), viola (Triona Milne) and cello (Laura Anstee) shine as well. Like "The Mermaid", it is as an example of the disc with a large number of instruments but with a trimmed output sound, or at least a producer (Damien O'Kane) who has recognised that less is sometimes more (it certainly is here). It is sharp and distinct. The sound of "Life in a Paper Boat" does not wash up and roll muddy on the shore, it feels instead like a fine wooden vessel skirting the briny sea on a fresh September morning.
The song at the heart of the album (of the same name) "Life in a Paper Boat" is affecting and timely; managing to convey the fragility, sadness and desperation in the refugee situation with just a few words. The synth in this track casts a slightly spectral, somber feel which sets a scene for the subject who is praying for a ray of inner hope during his predicament. He has lost his wife and the "ancient land I've left behind in ruins", the track focuses on the positivity and light in the situation for that person. It makes you think, but it is not a song that guilt-trips or attempts to point fingers outwards, it just looks inwards to the refugee's mindset and seeks to create a connection with the listening audience. Penetrating, on-point and as direct to the issues and feelings as possible, it is a song that soothes like a balm on the burning marked skin of society's conscience. Stirring and mindful it is what is needed for an individual's quiet reflection of the issue.

The last track I will talk about is of course the excellent "Big Brave Bill". When I described Kate Rusby as invoking the inner child, she certainly does here and takes it to the highest level with this song. The song started out as a bedtime story for her children and grew into Bill, a superhero from Barnsley who likes Yorkshire Tea (I can't stand the stuff but I'm not originally from Yorkshire, so what do I know). He saves people from many notable places in the area such as Cannon Hall Park and further afield in Mallorca (when there is a bad brew was on it's way) and is unashamedly Yorkshire while he does it. It must certainly have been a guilty pleasure for Kate to write and sing but it is really good, a lovely bit of fanciful myth-making. The whole track is charming and accomplished and as she says it is "truly" a celebration of Yorkshire identity in a lighthearted, highly spirited way. It's energy and humour does leave me asking if it ever helped her children sleep at night or if it made them jump up and down on the bed a lot instead!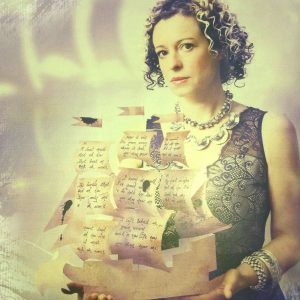 Throughout the album Kate Rusby's voice is a sweet undertaking of the finest kind. Some through recent folk history might compare her tones to the light touch of honey or cream or some other swirling, tasty molasses; I actually see the overall sensory analogy as being rather like lemon meringue. As sacchariferous as some could claim her songs are, the key to Kate Rusby's attraction is her shifting centre, Lemon meringue is sweet but also a touch sharp and the creator of such a thing decides on the balance of two. The title track itself "Life in a paper boat" is serious, is harsh and very real in that it depicts the refugee experience. Rusby doesn't hand out a lemon and make the situation sour, there is more to it and I think she has a singular skill for eliciting empathy from the audience. The album's mixing compliments her voice too, it never overpowers or really comes close to drowning out the voice track. There are never any doubts about where Rusby can be heard and this is a great indicator of talent all-round as Rusby favours clarity over volume, and if this album is anything to go off, there is still quite a lot to hear yet from Yorkshire's heartlands from this artist. Check this album out, it a a nice addition to this year's releases.
TRACK LIST
Benjamin Bowmaneer
Hunter Moon
The Ardent Shepherdess
Life In a Paper Boat
Only Desire What you Have
Hundred Hearts
The Mermaid
Pace Egging Song
The Witch of Westmorland
I'll Be Wise
Night Lament
(BONUS) Big Brave Bill
Life In a Paper Boat was released on 7 October, 2016. She is on tour! Check out the image below and her website here, for more details