Released October 2021
Sit up, science is about to begin! For those who like to follow the Roud index as much as the Alper-Doger Index, an EP is out which looks at some incredible stories of science, celebrating them in the warm halo of Findlay Napier and Megan Henwood. The stylings of Glaswegian Napier and bluesy-lyricist Henwood's folk have combined into something both nerdy and musically beautiful, the likes we have not seen of any time in recent memory (except of course their first EP "Story Song Scientists", of course). This fusion with its heart in experimentation goes some way to make us quicken from a slow meander to a quintessential sprint with purpose as we hear of some previously unheard human accomplishments from our history (and not all positive in nature).
This EP contains crackly call-backs to yester-year, poetry and good old melodies whose quaint exterior masks the quite seismic effects on our history. Supported by the Arts Council these science stories spectaculaire are a potent mix of songwriting that is every bit the beauty of that potassium experiment you remember with all its fireworks (and less of what could be found behind the safety screen afterwards).
"Ode to the Man with the Man with the Golden Arm" is like a quick,friendly embrace with its gentle and softly spoken, 60s ballad influence. Describing James Harrison, a man with a rare antigen to Rhesus Disease in his blood, the song captivates with a folky, calling harmony and a melodic guitar pluck that quietly celebrates his accomplishment. On discovery of the antigen, Mr Harrison is purported to have saved 2.5 million babies in Australia by regularly donating blood every week for 60 years. The duo's voices celebrate as a reverent singing whisper for an enormously generous human being; the track ripples its delicate butterfly wings in the Far East spreading its influences out. Like the calm, thoughtful works of Simon and Garfunkel, Napier and Henwood glow in awe with their captivating song style.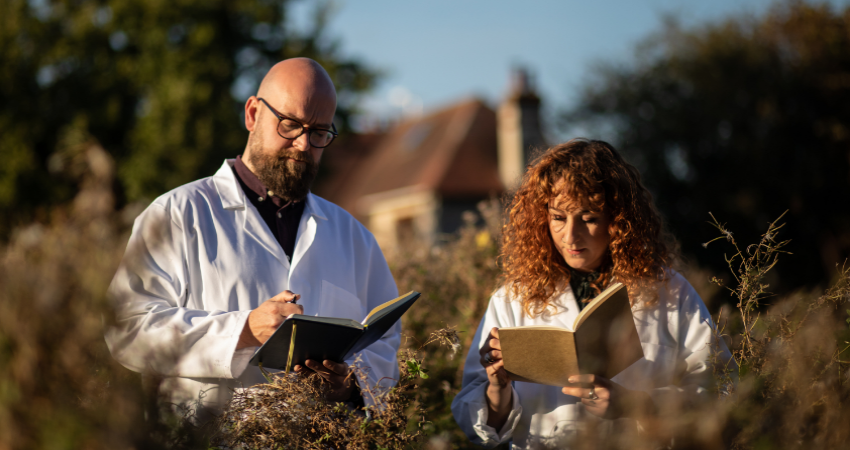 The idea behind the "The Anarchist Cookbook" is, of course, that book of legend whose reputation hadn't dimmed in some circles I knew at school in the 90s. The recipes for such things as the construction of weapons, how to make LSD, and most famously, bombs were contained within. The spirit of the age is invoked as the song wonders how William Powell's book could have affected the conscience of the author, "there is ink on my fingers, blood on my hands". The juxtaposition of the damning lyrics with the dream-like guitar dissolves into a final chorus of clicks, static and growing synth drums that really sticks in that time-honoured tradition that the jolliest tunes are probably the most grim in content (just look at child ballads). Mirroring Mr Powell's own regrets, the song is like a poorly maintained fairground. Breezy and fun, the danger lies beneath the surface in the track; it rises to the surface in the off-beat continuation of "Specimen 4 – TAC" (Track 8).
We also want to talk about "1800 and Froze to Death". This delightful ditty is the catchy, sing-a-long blues number that we would normally find within Megan Henwood's cabinet of music, and it being here serves the listener very well. The early track speaks of Mount Tambora's eruption (the most powerful on Earth in 10,000 years) and how it created a climate catastrophe of famine and exceptionally cold temperatures. Clever rhyming with and charming interface between the two singers allows this song to flow as it talks about global, seismic changes to the world in the style of a guy out of work and down on his luck. Smoky and stylish like Henwood's solo fare with a good eye on the word (as per Napier), this is worth taking pause for.
There are other tracks for you to mull over here, but without going into details it is safe to say that "The Story Scientists" has been a worthwhile experiment with everything here. Henwood and Napier's voices are complimentary, the album is polished in production, and there have been some inspiring choices of science throughout.
If you are interested in the album it can be purchased from all good stockists, but as always we recommend you buy from the artists themselves at: https://meganhenwoodfindlaynapier.bandcamp.com/album/quantum-lyrics