This year we managed to get to the Derby Folk Weekend.
Not quite as large as it has been previous, it still continues to get a good selection of artists from across the folk genre and it all takes place in the Old Bell Hotel (one of our favourite venues).
There are some other exhibitions going on around the Market Square, we hope to get to these in due course.
On the first night after setting our weary feet and joyful heart down for a whisky, we were able to see three(ish) acts from the first night: The Herron Brothers, Blair Dunlop, and Leveret.
Herron Brothers
(https://theherronbrothers.com/)
It all started for us in the front bar with The Herron Brothers; we were running a little late and did not settle for too long. What we heard was encouraging, bright and a cheerful pop act that had character. From what we have seen they are like Mirror Universe Gallagher brothers bringing the cheer to Derby in their own rather than projecting an image of fighting you for your bag of chips, like a seagull. Independent music is great and this band is carving a place with some cool music.
Before moving on we have to plug their clip of "Babu", what a great, joyous listen.
---
Blair Dunlop
Then, from nearer our neck in the woods, Blair Dunlop arrives from sunny Chesterfield. Dunlop is a good entry to ticketed part of the festival with a mix of mellow, insightful in his acoustic performance. He credits Jim Moray as being a big influence (which seems to be a theme emerging in this festival so far) and, like Moray, he has found a plethora of interesting topics to tackle be it recent historicals or more obscure interests, (The expenses scandal, a Porsche, and condiments).
Dunlop is like a rag and bone man, he has a bit of something for everybody. For us we were particular enamoured by "Sweet on you" (a bad relationship, but a good melody) which has a hook as good as Arturo Gatti, "In the day I think you are trouble, in the night I'm sweet on you". We also enjoyed the time travelling nature of "Spices From the East" which brought back a historical talk we had on a guide tour of the Salt Mines near Krakow. Fascinating, beautiful place and also a metaphor-filled spice rack of good lyrics once again. Check out the link below for the previous release for "Sweet On You".
---
Leveret
(https://www.leveretband.com/)
Leveret don't really need much introduction for those swimming in the pool of traditional music. For many, they are probably "all about the playing"; as they said themselves on stage, "We don't talk much". They actually talked more than you might expect with this sentiment, but there were definitely some interesting stories from the road alongside the continuing excellent musicianship.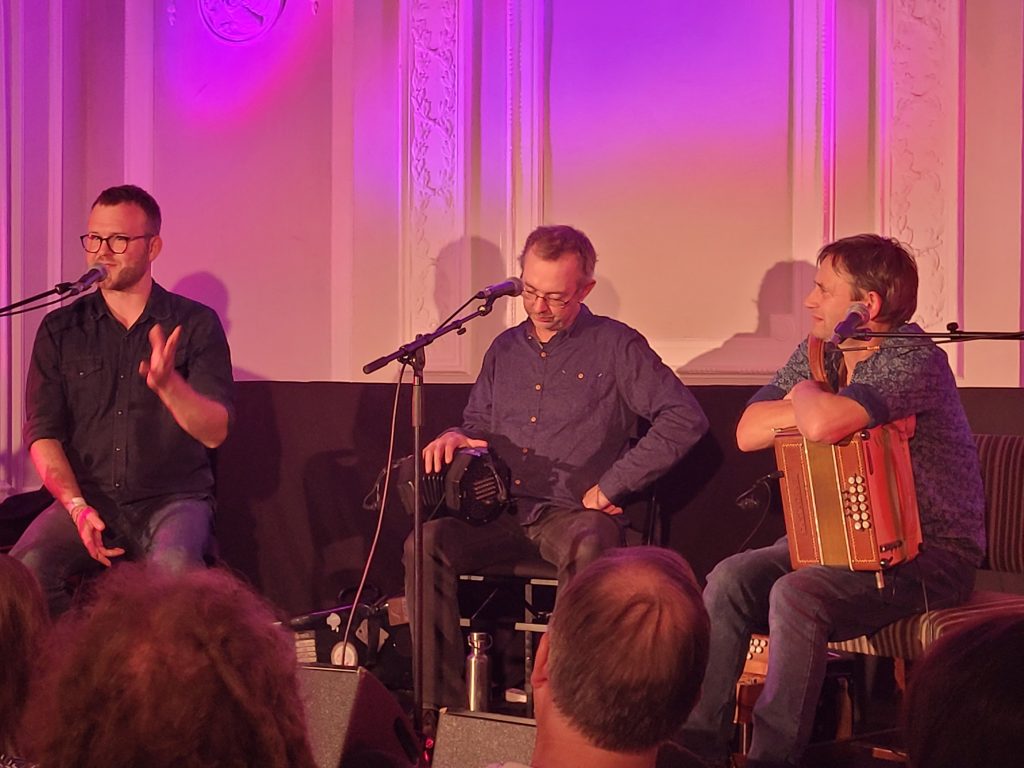 We've seen them a couple of times and hadn't been aware of the changing roles they take during their sets depending on how they feel. Such fluidity must come from a place of prior technical excellence and practice. We loved the abundance of hornpipes, including the 3/2 ones such as "The Good Old Way" which is the tune that always instantly springs to mind when we hear their name. A beautiful change of pace was the set of airs, "The Height of Cader Idris" with "Jack a Lent". The first tune certain conveys a kind of majesty within it's performance, "Jack a Lent" has serious Spring overtones and probably less of the implied dark contradiction in this rite than you would imagine. If you want a listen, take a listen below:
An impressive entry to the Folk Weekend covering a few different bases in the musical tradition. There is a lot to like here and much more coming up for the Derby Folk Weekend https://www.derbyfolkfestival.co.uk/